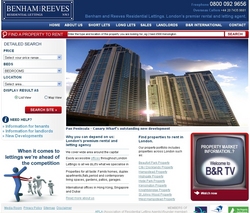 Conditions have changed dramatically though and this is definitely now a tenant's market. All our offices are very busy but tenants are looking for good deals.
London, UK (PRWEB) July 28, 2009
While it is clearly premature to talk about 'green shoots of recovery', there seems to be some agreement that the economy appears to be stabilising. Against this backdrop, the London lettings market appears to be thriving at the moment, with Benham and Reeves Residential Lettings reporting enquiry levels up on last year, with a clear rise in demand from overseas tenants looking for a home to rent in London.
"The lettings market is in full summer mode and demand for rental properties is strong throughout our eight London offices. In particular, we're seeing an increase in enquiries from prospective international tenants, which may indicate that multi-national organisations are starting to relocate staff again." reports Lettings Director Marc von Grundherr.
"Conditions have changed dramatically though and this is definitely now a tenant's market. All our offices are very busy but tenants are looking for good deals." continues Marc. "In fact, rents have come down by 10%-30% depending on the type of property and tenants are taking full advantage of this. The last five years have seen a landlord's market but the market is very different now and landlords need to recognise this in order to minimise void periods."
Benham and Reeves Residential Lettings attributes much of its current increase in business to its pro-active marketing strategy, with its new-look website proving to be a key factor as Marc explains: "Over 26,000 prospective tenants have searched for a home on our recently re-launched website over the last three months which is a very encouraging response. There's been a total increase in unique visitor numbers of 29% compared to 2008 and in particular, we've seen an increase in overseas visitors, with the USA up by 28%, Italy increasing by 40% and enquiries from India up 22.5%"
"Our client list is also an important part of the equation. We've built up our contact list over 53 years in the business. We regularly work with leading relocation agents and also have excellent HR contacts in many FTSE and Fortune 500 companies - 70% of our tenants work for large blue-chip companies. We really do believe that landlords will find it hard to find another lettings agent that can match that level of experience."
The new-look BR Lets website caters well for prospective tenants where they'll find the latest London property listings, and for Landlords too with 'B&R TV' containing easy-to-follow information on the legalities of letting a property, from insurance and deposits to furnishings and everything in between.
Since its re-launch, the website has attracted thousands of first-time visitors as Marc explains: "We've used our experience gained over fifty years as a residential lettings specialist, to create a website which is a one-stop resource, full of information that landlords and applicants will find informative and useful. We're delighted to the site is receiving so many new visitors, demonstrating that the combination of up to date news and well presented property details seems to be a winning formula."
About Benham and Reeves
With eight offices in the prime residential areas of London (and overseas offices in Singapore, Hong Kong and Dubai), Benham and Reeves Residential Lettings is recognised as one of the largest specialist London Lettings -only agencies. They are also one of the only lettings agents to offer a London interior design, refurbishment and furnishing service for investment properties through their sister company, In:Style Direct.
Contact:
Tracie Lack
Benham and Reeves
020 7433 6670
http://www.brlets.co.uk
###