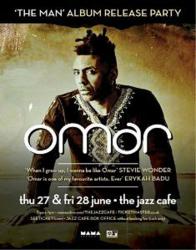 (PRWEB UK) 14 June 2013
Soul lovers across the London nightclubs have the rare treat of being invited to celebrate the album launch of Omar's latest release 'The Man'.
Omar is one of the most respected contemporary UK artists whose music has carved its place in the British soul scene since 1991 leading to being awarded the title of M.B.E by the Queen for his musical contributions to over the decades.
His biggest hit 'There's Nothing Like This' is without a doubt a rare grove classic, and this musician has collaborated with everyone from Angie Stone, Stevie Wonder, Common, Erykah Badu and many more played across R&B clubs in London.
Returning to the Jazz Café Omar is launching his new album 'The Man' which has been tipped as his best work to date packed with influences from soul, funk, latin, reggae and house with a strong live element as man forget he is a qualified musician playing numerous instruments.
The dates for your diary to attend 'The Man' release party are: Thursday 27th and Friday 28th June with tickets priced at £15 in advance. Be sure to grab yours now and see why the biggest stars loved across the nightclubs in London call Omar 'The Man'.
This news release has been brought to you courtesy of London Groove, for the ultimate luxury night out London Groove offers exclusive guest list, booth and table bookings across all venues, with no minimum spend, allowing guests to fully focus on partying.
There is also no membership requirement making London Groove's parties some of the capital's few quality club nights open to all.
The bespoke agency also has a dedicated website which, as well as providing bookings, allows guests to browse the latest pictures from the London nightlife scene including fashion, and celebrity gossip.
"London Groove's club nights are the ultimate destination in the City of London attracting over 900 party goers every weekend. Their style and luxurious feel mean you can make the most of the London clubs scene and have fun in three of the Cities best venues where anyone and everyone can enjoy a night of glamour," commented Steve Prashad, Director and founder of London Groove.
For further information, you can contact Steve Prashad at: steve(at)londongroove(dot)co(dot)uk.
About London Groove
Launched in March 2004, London Groove was set up to provide a guest list service for night clubs in London for people who wanted to go clubbing in the West End so they could sign up on the guest lists for their chosen club nights in the West End.
Initially catering to a range of London R&B clubs and providing a London guestlists service for clubs, London Groove then focused on hosting its own club night in the West End every Saturday from which Soul Saturdays was born. London Groove steadily grew and has since worked with many night clubs in London and expanded their music policy at their club nights to include Funky House, 90's Old Skool, Party Anthems and Club Classics.
"We aim to give our customer our help, support and value for money when booking a guest list, table or area and partying with us at any of our club nights. We pride ourselves on professionalism and customer satisfaction with our endless list of clients ranging from blue chip companies to small businesses to individual guests, not to mention some of the best nightclubs in London," says Steve Prashad, Director and founder of London Groove.
Website: http://www.londongroove.co.uk
Phone (office): 020 8252 1574 (10am - 6pm)
Phone (on the move): 07968 828 504 (10am - 8pm)
Soul Friday's at Yager Bar
Address: 2 Old Change Court, EC4M 8EN (Tube: St Paul's)
Capacity: 250
Opening times: 10:00pm – 2:30am
Minimum age: 21 years and photo ID
Soul Saturdays at The Refinery Bar
Address: 110 Southwark Street, SE1 0TF (Tube: Southwark / London Bridge)
Capacity: 300 people
Opening times: 10:00pm – 3:00am
Minimum age: 23 years and photo ID
Soul Saturdays at The Anthologist Club
Address: 58 Gresham Street, EC2V 7BB (Tube: Bank)
Capacity: 500 people
Opening times: 9:30pm – 3:00am