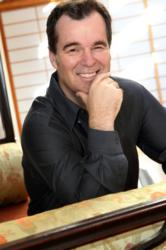 Great, creative, training and a willingness to adopt the right mindset are vital for those wanting to become involved in real estate investing
(PRWEB) July 26, 2012
In August 2012 the world spotlight will be on the UK for the London Olympics, including that from famously sports-mad Australia. In planning his series of seminars on real estate investment strategies for Aussies, property investment specialist, Rick Otton knew exactly which dates to avoid.
"I'm an Aussie first, and a property investment coach second" said Mr Otton. "And because of that I know where many of my fellow Australians' attention will be at the beginning of August - and it won't be on learning real estate investment strategies."
Mr Otton's free training seminars, he believes, are perfectly timed to inspire Aussies to embrace new concepts, and to reach for prosperity stars in the same way their athletes will reach for gold at the Olympic games.
"Our athletes, along with those from around the world, will do amazing things in London, and many have overcome adversity in order to do so" said Mr Otton. "Great training and mindset have been the key ingredients to get them there."
"The same can be said for the students who are coming to my free real estate investing seminar events" he continued. "Great, creative, training and a willingness to adopt the right mindset are vital for those wanting to become involved in real estate investing. And importantly, I know that many of those present will have battled financial adversity."
This adversity, he says, is mainly at the hands of traditional lenders who often set criteria that low income earners, the self employed or those without a hefty deposit, can meet.
Mr Otton's book 'How To Buy A House For A Dollar', released earlier this year, opened up the world of real estate investment to everyday Australians, and it is the innovative strategies that he builds on in his one day seminars.
The 'How To Buy A House For A Dollar' seminars begin on 16 August in Parramatta - just after the Olympics Closing Ceremony.
"I'm expecting the students to be really pumped" said Mr Otton.
The full schedule for the 'How To Buy A House For A Dollar' seminars is available at HowToBuyAHouseForADollar.com/register
About Rick Otton
For more than 20 years, Rick Otton has been identifying undervalued assets in the real estate market, snatching them up and selling them to build wealth. Otton is the founder and CEO of We Buy Houses, an innovative property firm that has been successfully employing his strategies in the U.S., U.K., Australia and New Zealand.
Otton formulated his strategy in the early 90s and within his first year of real estate investing acquired a portfolio of more than 75 properties. Since then, Otton has made millions in the real estate market, generating huge profits with little risk to his own capital.
Today, Otton is teaching Aussies how to enjoy the same success he has had, buying and selling residential real estate without the debt, risk and reliance on bankers that plague many conventional real estate investors.
Otton has been featured on a variety of Australian TV shows, including an ABC documentary, Today Tonight, A Current Affair and Insight. In 2007, Otton was featured on Channel 9's Hot Property, and gave away a home.
In addition to his television appearances, Otton has also been profiled in publications such as Australian Property Investor, Lifestyle Trader and Your Property Network, among others. You can learn more about Otton and his innovative investment strategies by visiting http://www.rickotton.com and about the free one day seminars at HowToBuyAHouseForADollar.com/register