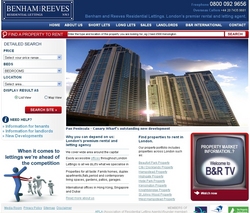 We're seeing an unprecedented level of interest in London Lettings at the moment and rentals are up by 19% over August 2008
London, UK (PRWEB) September 12, 2009
There was a high level of demand across all types of property but a new development, Pegaso in Hoxton, North London, two minutes from Old Street roundabout, perfectly illustrates current market trends; Benham and Reeves Lettings, as the sole letting and management agent, let all available units within only 10 working days.
"We're seeing an unprecedented level of interest in London Lettings at the moment and rentals are up by 19% over August 2008," reports Lettings Director Marc von Grundherr. "Supply levels are also up and across our nine London letting offices, receiving 17% more instructions this August than in August 2008.".
"The speed with which units in Pegaso were snapped up is a great example of this," he continues. "We've been deluged by prospective tenants - in fact, on the second day of our launch of the building, we had eight sets of tenants in a queue waiting to view the apartments, which is phenomenal."
"Of course, the Pegaso Building is a great development. It's situated in Hoxton which has seen a great deal of regeneration in recent years and is now home to some good bars, restaurants, shops and galleries. In fact the building is directly opposite Jamie Oliver's Fifteen restaurant. Pegaso is located only a five minute walk from the City, with easy transport links from nearby Old Street Tube station. One bedroom Pegaso apartments boast around 550 sq ft of living space which is about 15% larger than you'd expect to find in a typical City apartment so they really do offer great value for money."
"We had a mixture of one, two and three bedroom apartments available at rentals ranging from £300-£525 per week and they've all been let to professionals such as lawyers, bankers and media executives. As well as the development's sought-after location, tenants have been attracted to the apartments' stunning contemporary design and furnishings." continues Marc.
Each open plan apartment has full height windows and timber floors and most also have a balcony. Each apartment has a true 'wow' factor as London interior designers In:Style Direct, specialise in designing interiors for investment properties and were brought in to give each apartment a stylish yet individual look that would really appeal to prospective tenants.
"These aren't the usual identikit apartments you'll find in many new developments," explains Marc. "In:Style Direct created an individual design and furnishing scheme for each apartment. They used high quality furnishings teamed with 'ani-M' soft furnishings and accessories to achieve a sophisticated, contemporary interior but with a distinctive style of its own."
"The current strong London rentals market appears to be a sign of an improving economy in general. In August, we also let 27 Beaufort Park apartments in North London, another development which offers tenants exceptional value for money" says Marc. "I believe that this surge in demand is down to better affordability. Lower mortgage rates are allowing landlords to pass on savings to tenants in the form of lower rents and this is creating pricing levels that are sustainable for both landlords and tenants."
"When it comes to investing in London property, we're once again seeing a great deal of interest from overseas investors, through our offices in Hong Kong, Dubai and Singapore. Many have been sitting on the sidelines for some time but, with the strengthening pound and the property market appearing to be bottoming out, many are now considering this to be an ideal time to invest before prices rise again."
To find out more about the latest properties available visit our website Benham and Reeves Residential Lettings
About Benham and Reeves Residential Lettings:
With nine offices in the prime residential areas of London (and overseas offices in Singapore, Hong Kong and Dubai), Benham and Reeves Residential Lettings is recognised as one of the largest specialist London lettings only agencies. They are also one of the only lettings agents to offer a London interior design, refurbishment and furnishing service for investment properties through their sister company, In:Style Direct.
The company is part of established property group, The Complete Property Investment Solution, which offers a complete range of services to help clients maximise their return on investment. With a leading sales and acquisition agent, interior designer and furnishing company within the group, The Complete Property Investment Solution can manage all aspects of property investment.
###