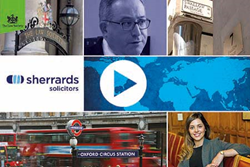 We have a level of international connectivity that is disproportionate to our position as a mid-market London law firm and that enables us to punch above our weight.
London (PRWEB UK) 17 October 2014
The Law Society helps English law firms to expand their reach to international markets, and chose Sherrards Solicitors (Sherrards) to appear in their Annual Review video series and on their website as a result of the important steps the firm has taken internationally in the last few years. In October 2013, the firm received the 'Highly Commended' award in the Exporting Legal Services category at the Law Society's Excellence Awards.
As the video shows, Sherrards is one of many mid-market law firms in the London market, but has been able to differentiate itself through its ability to connect its clients not only to other lawyers overseas, but also to high level contacts in government and business.
The UK Government's UK Trade & Investment (UKTI) website refers to Sherrards as follows: "They are the 'go to' firm for clients requiring services on a wide range of commercial law and have moulded their services for the international market as a result of growing overseas demand."
Click here to watch the video.
Head of Litigation and International Services, Paul Marmor, who features in the video, comments: "In recent years, we have accelerated our international development by developing close links to the Law Society's International Division, the UKTI and the International Bar Association. We are working regularly with companies and private investors who are either entering the UK or looking to export. Our involvement in Alliott Group has also opened doors for us and our clients on the international scene."
With an increasing number of overseas investors, particularly in Russia and the CIS countries, using the High Court and London as an international centre for dispute resolution, including arbitration and mediation, the firm has received Law Society recognition for its efforts to promote England as the jurisdiction of choice. The firm has also been able to develop practices focused on Russia and the CIS markets, as well as India, North America, China and Taiwan, as a result of its growing international skills base and the relationships that have been cultivated with professional advisors and other government and business leaders across the world.
Marmor continues: "We have a level of international connectivity that is disproportionate to our position as a mid-market London law firm and that enables us to punch above our weight. We have also seen that the very best law graduates and solicitors want to come and join a firm that offers a varied and challenging working environment and cross-border exposure."
Alasdair McMillin, Managing Partner, adds: "Our international offering helps us to rise above many firms of our size in London, and also in the St Albans and Hertfordshire surrounds where this level of international experience is rare. We have multilingual solicitors in the firm across our service and sector areas who can assist foreign companies doing business in the UK, and equally, UK companies that want to trade overseas."