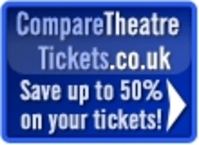 London, UK (PRWEB) August 5, 2008
With the credit crunch looming around us, it's only understandable that the pennies are tight and going out is more of a luxury. Let that not be the case. Comparetheatretickets.com is here. Get the best rates on the best shows currently on at the West End, save 'your' pennies and enjoy a great night out.
Launched in November, 2007, http://www.Comparetheatretickets.com has already sold more than 40,000 tickets. The sites goal is to make sure customers were getting the best price on their tickets, because at the time there was no way for you to know if the price you were paying was the best or not unless you trawled through all of the ticket brokers which is a timely process! So since nothing of its kind was around, the team behind Comparetheatretickets.com thought it would be a great idea and luckily enough, it caught on with a boom. The site now sees over 2000 unique visitors a day and has a strong list of email subscriptions.
With the BBC reporting a soar in ticket sales this year compared to last, there's only more incentive to get it on the action and make the best out a truly unique site with its first & one of a kind London theatre ticket comparison technology.
So, whether it's a family day out to see The Lion King or a saucy evening out with your partner to see Dirty Dancing, let Comparetheatretickets.com have the honour of saving you some money on your tickets. Let's enjoy theatre even more.
London Theatre Tickets
Founded November 2007.
STAR accredited brokers.
All major shows available.
###