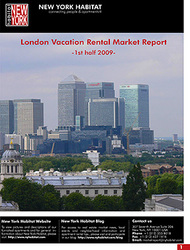 The London Vacation Rental Market Report has enabled New York Habitat to provide a detailed look at the London Market
New York, NY (PRWEB) October 29, 2009
New York Habitat has just released the 1st half 2009 London Vacation Rental Market Report. In creating this document New York Habitat took into account information that apartment owners, people searching for accommodations and other interested in the London vacation rental market have requested, to provide them with a detailed picture of the London Vacation Rental Market.
In the 1st half of 2009 New York Habitat's London vacation rental division saw strong growth compared to much of the travel industry. Some of the main reasons for New York Habitat's development in the down market consisted of:

Increased marketing efforts to bring in more customers
A declining British Pound making London less expensive
An knowledgeable staff who were able to respond to the needs of customers
The company expects to see continued growth in the London market as apartment rentals remain a competitive option compared with hotel accommodations. To maintain this growth New York Habitat's London apartment rental team will continue to focus on marketing the vacation rental service as well as increasing the number of accommodations available to customers traveling to London.
Within the report there is a mixture of text, graphs and tables to summarize the past, present and future market conditions. Some of the highlighted information includes:

Average, median and mode apartment prices
Percentage of apartments rented by type (studio, 1-bedroom, 2-bedroom, etc.)
Pricing by apartment type
Popularity of neighborhoods based on completed rentals
And more
"The London Vacation Rental Market Report has enabled New York Habitat to provide a detailed look at the London Market" says market report creator Brian Lowenberg. He goes on to say "With the constantly changing macro and micro economic factors influencing the market it is important for apartment owners and renters to stay on top of the ever evolving landscape in London. This report is the perfect tool to do just that."
To share this and past London Vacation Rental Market Reports, New York Habitat has created a London Furnished Apartment Market Reports webpage. The page continues to grow and includes the 2008 and 1st half 2009 London Vacation Rental reports. The next London Vacation Rental Market Report will be released in the winter of 2010 and will look at the 2nd half of 2009 plus 2009 as a whole.
Established in 1989, New York Habitat is a fully licensed residential real estate agency, specializing in furnished apartment rentals in London, New York, Paris, and the South of France. With a team of multilingual agents working around the world, New York Habitat is able to provide clients with a selection of more than 12,000 apartments and houses that are available from one day up to one year or more.
We invite you to contact New York Habitat for more information about this London market report and for any other services you may require (listing your apartment, corporate housing, student housing, and/or renting in any of our destinations). For the latest London market news and to learn more about New York Habitat-related topics, please visit New York Habitat's blog.
# # #