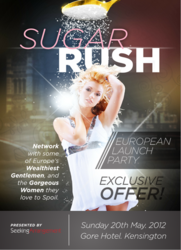 Though we already have members from all over the world, the Sugar Daddy and Sugar Baby lifestyle are still very much an American ideology.
New York, NY (PRWEB) April 20, 2012
SeekingArrangement.com, America's largest Sugar Daddy dating website is officially launching Internationally. The website will be hosting Sugar Rush: The European Launch Party at The Gore Hotel in London on May 20, 2012.
Sugar Rush is the first, exclusive Sugar Daddy party in the United Kingdom, bringing together London's finest specimens of beautiful women and dapper, wealthy men seeking mutually beneficial relationships.
The party will coincide with the foreign language expansion of SeekingArrangement.com into Germany, France, and Spain. The company plans to support all European languages by the end of this year to cater to an ever growing number of sugar daddies and sugar babies in Italy, Portugal, Sweden, Netherland, Switzerland, Poland, Romania, Czech Republic, Ukraine and Russia.
This SeekingArrangement.com Party will be unlike any other Sugar Daddy party held before. Striving for only the highest caliber of luxury and elegance, Sugar Rush aims to set a new standard for all future SeekingArrangement.com parties. This highly-exclusive affair will be attended by some of London's most established and successful men, including lawyers, doctors, executives, footballers and the independently wealthy. These potential Sugar Daddies will have the opportunity to mingle with a few hundred beautiful women, including models, dancers, aspiring actresses and university students.
"Though we already have members from all over the world, the Sugar Daddy and Sugar Baby lifestyle are still very much an American ideology," says Brandon Wade, Founder & CEO of SeekingArrangment.com "We are excited to expand our reach internationally and believe that the world could really benefit from more mutually beneficial relationships."
Sugar Rush is a red carpet event that will be held in South Kensington at The Gore Hotel, which is noted as 'the ethos of discretion, seclusion and excellence', and hosted by up-and-coming events company, Eloquent Events.
Guests will enjoy canapes and champagne, along with signature cocktails for sugar babies and sugar daddies. Local DJ, Greg Costa, is lined up to entertain for the evening, as well as a tarot card reader, comedian and other surprises. Drink specials will feature SeekingArrangement.com's very own recipe: the Sugar Daddy cocktail and the Sugar Baby cocktail.
Several European media outlets have already covered SeekingArrangement.com, including the The Daily Star, The Daily Mail, The Independent, The Telegraph, GQ Magazine - British Edition, and Swedish Kanal 5. This year alone, SeekingArrangement.com has been the focus of a number of documentaries in the United Kingdom, France and Sweden.
Event Details
Tickets for the event are £40 for ladies (sugar babies), and £80 for men (sugar daddies). A 50% discount is applicable for tickets purchased before May 1st. Only 300 tickets are available so we highly recommend purchasing tickets early via SeekingArrangementParty.com. A limited quantity of tickets may be available at door at a higher price.
Press Coverage for the Event
We encourage members of the press to attend this event. However, press attendance is restricted to those who have a press pass. To obtain a press pass for Sugar Rush, please contact us directly by email at press (at) seekingarrangement.com or call us at +1 (702) 241-0100.
About SeekingArrangement.com
SeekingArrangement.com is the premier sugar daddy dating website, and has been prominently featured in international media including: the New York Times, CNN Headline News, The Daily Star, Good Morning America, ABC 20/20, Dr. Phil, and many other media outlets. SeekingArrangement.com was founded by Brandon Wade who was called "Mr. Sugar Daddy" by the Wall Street Journal. He is also the founder of a number of successful niche dating websites including a travel dating for travel girls - MissTravel.com, millionaire matchmaking website - SeekingMillionaire.com, and online dating auction website – WhatsYourPrice.com.