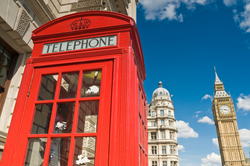 Bloomfield, NJ (PRWEB) October 15, 2009
Club ABC Tours, one of the largest private travel clubs in the country, is excited to offer London Super Vacation Deals starting from just $499. Vacation packages include round-trip flights on Virgin Atlantic from Newark (fuel surcharges included), hotel accommodations for four nights (minimum) including hotel tax and service charge, and breakfast daily. Departures begin in January 2010 through March 2010. Travelers must book and pay by December 15, 2009 to take advantage of this travel club offer. Membership is available at a nominal fee.
Travelers have the option to stay at the recently renovated 4 Star Thistle Euston Hotel which is conveniently located between Regent's Park and the British Library or the 5 Star Kensington Hotel, an extraordinary hotel reborn following a £ 20million refurbishment. Visitors can create their own itinerary to sample sights such as Buckingham Palace, Kensington Palace or the Tower of London. For guided tours, travelers can pre-purchase optional passes directly from Club ABC. Visit http://www.clubabc.com for more information.
About Club ABC Tours
Club ABC Tours is an exclusive travel club providing outstanding vacation values to its members since 1966. Club ABC Tours' negotiating power and experience allows it to offer a wide variety of vacation packages at prices which present considerable savings to the members. The Club ABC's highly trained and well-traveled membership services team can answer all the travel questions that a member might have. One to five year memberships are available starting at just $39. Each membership covers a maximum of two adults per household and their dependent children. Members have access to a full array of outstanding vacation values, travel catalogs and related travel benefits like discounted airport parking, car and cell phone rental, and offers rewards for new member introduction. Club ABC Tours also specializes in planning group tours for families, friends and affiliated organizations. For more information, call toll-free at 1(888) TOURS-ABC (868-7722) or visit http://www.clubabc.com
###