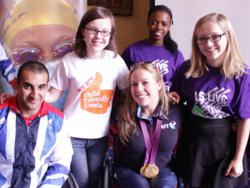 I think the reporter medals are a great way to encourage the kids.
(PRWEB) September 25, 2012
Supporter to Reporter (S2R) has been motivating young people through sports reporting for five years, and is an official London 2012 Inspire Mark project. To celebrate this incredible summer of sport, S2R set young people a challenge to become Olympic and Paralympic Reporters by capturing their perspective of the Games and showcasing it online through the S2R Network.
As well as awarding the first 500 successful reporters with a shiny 2012 Reporter Medal to wear, over 13's can now also receive a digital badge - soon to be displayed on social networking profiles - issued through the new Mozilla Open Badge system.
So far S2R have awarded over 250 '2012 Reporter Medals' to budding young reporters. Schools can still get involved by inviting their students to write a reflective report on the London 2012 Games. Lauren, 15 from Northampton, described what she thinks the Games will be remembered for from a countrywide and personal perspective: "Tom Daley's bronze and British Diving's celebration will stay with me forever".
Over 25 pupils from Tanshall Primary School in Scotland have earned their '2012 Reporter Medals' by creating reports about their favourite Paralympic Heroes: "Ellie Simmonds is my hero for many reasons but the main reason is because I think its fabulous she can swim so fast".
Moira Mcewan, a teacher from Tanshall Primary has been encouraging her pupils to report on the Games: "I think the reporter medals are a great way to encourage the kids".
Schools around the world can join the S2R Network for free to access teacher resources, competitions and connect with a community of young sports journalists. http://www.makewav.es/joins2r
S2R still have more '2012 Reporter Medals' to award to young journalists. Find out more about our '2012 Reporter Medals' here.