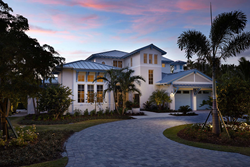 A private residence and four single-family model homes in downtown Naples, Mediterra and Miromar Lakes Beach & Golf Club earned a combined eight awards.
Naples, Florida (PRWEB) October 20, 2016
London Bay Homes, Romanza Interior Design and Acquatico Pools recently received 10 Sand Dollar Awards during the annual gala presented by the Collier Building Industry Association's Sales & Marketing Council.
The awards honor the best in building, interior merchandising, pool design, website, and the coveted Community of the Year, awarded to Mediterra for an unprecedented 10th time.
A private residence and four single-family model homes in downtown Naples, Mediterra and Miromar Lakes Beach & Golf Club earned a combined eight awards.
Romanza Interior Design received top honors for its interior design of two homes near downtown Naples: The Anguilla, a private residence priced between $3,500,001 to $4 million, and the Chelston, a custom single-family model home in the $4,000,001 to $4.5 million category.
The three-bedroom Anguilla in Park Shore sold just 11 days after completion. Its award-winning interior design features a coastal contemporary aesthetic with driftwood accents, white tongue-and-groove ceilings and a palette of sea, sky and sand injected with touches of bright aqua, teal and citron throughout its 3,584 square feet of living space.
The Chelston, a three-bedroom model located at 631 Broad Court in Old Naples, offers an island-inspired design with natural walnut wood flooring, clean-lined British Colonial accents, woven furniture and vibrant colors of rainforest citrus, teal, coral, butter and eggplant against off-white backgrounds.
Offering 4,227 square feet of living space, the Chelston also was recently honored with multistate Aurora Awards, including the coveted Golden Aurora Best in Show and a Grand Aurora, from the Southeast Building Conference for best single-family detached home, best bath over $2 million, and best interior merchandising of a home over $2 million.
Both homes are part of the Naples Collection of luxury models offered by London Bay Homes, which includes homes from Park Shore to Port Royal.
Romanza Interior Design also received a Sand Dollar Award for its coastal design of the Benita, a single-family villa model in Miromar Lakes Beach & Golf Club. The three-bedroom Benita, featuring shell-stone flooring and a wide-ranging palette – from pale and full-toned coral, bright aqua and deep purples to tropical greens, cranberry, citron and teal – won the award in the $2,000,001 to $2.25 million category. The 3,102-square-foot villa is located in Portofino, London Bay Homes' exclusive lakefront neighborhood.
Two single-family model homes located in Mediterra received a grand total of five Sand Dollar Awards. London Bay Homes' Isabella Two-Story was recognized in the single-family home priced from $3,000,001 to $3.25 million category for best product, and interior design by Romanza Interior Design. The home also received the award for best pool design over $50,000 for its design by Acquatico Pools. The Belita received awards for best product and interior design in the $2,500,001 to $2.75 million category for its creations by London Bay Homes and Romanza Interior Design.
LondonBay.com, redesigned to enhance the experience for smartphone users, was named best website. The new mobile-first site features compelling imagery of homes and lifestyle videos that showcase the builder's emphasis on self-expression and creativity through its Private Label Living branding. Links provide easy access to London Bay's interactive brochure, magazine and blog.
A leader in the Southwest Florida home market for 26 years, London Bay Homes has been named America's Best Builder by Builder magazine and has earned more than 300 industry awards.
Its commitment to Private Label Living ensures quality, attention to detail, an enjoyable building process, and homes that are a unique expression of their residents.
The company builds new luxury custom homes priced from $1 million to more than $10 million in many of the region's most exclusive neighborhoods and communities. The company also builds private residences on individual homesites near downtown Naples, the Sarasota Keys and along the Gulf of Mexico.
For more information about London Bay Homes, call 239-592-1400 or visit http://www.LondonBay.com.