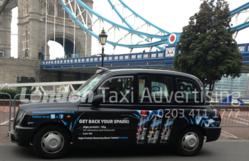 London (PRWEB UK) 30 May 2013
Nurishment Active protein shakes have turned to London Taxi Advertising for a city-central marketing campaign, promoting the brand to London's fitness-friendly nutrition seekers.
Adopting the superside advertising format, the creative projects the drink through the streets with the strapline 'Get back your spark'. Social media call to action and the Nurishment Active website also encourage audiences to explore the product further.
The latest addition to the iconic Nurishment protein milkshake family, Nurishment Active contains 22 vitamins and minerals which aid post-workout recovery. With a high protein content of 35g, the product allows a low-fat method of restoring energy through strawberry, vanilla and chocolate varieties of nutritionally enriched milk.
The dynamic medium of taxi superside advertising provides efficient coverage of key urban locations, allowing Nurishment Active to access a broad section of the city. In a region where speed is paramount, the time-saving option of a protein drink is highly relevant to audiences exposed to the advert.