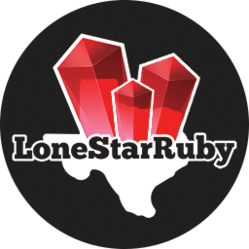 This should be the best year yet for LSRC
Austin, TX (PRWEB) April 30, 2013
The seventh annual LoneStarRuby Conference will again be held in Austin, Texas at the Norris Conference Center July 18 - 20, 2013. Thought leaders, trainers, and subject matter experts headline the agenda spanning Ruby topics meaningful to open source professionals. Keynotes will be from influential members in the global Ruby community including Sandi Metz, Steve Klabnik, Katrina Owen, and Avdi Grimm.
Organizer, Lance Vaughn is in his first year as President of the LoneStarRuby Foundation, and expects this event will further establish Austin as a center of excellence in the United States for Ruby development and training. "Every year LSRC draws people from all over the state and all over the globe, because of the great presentations, training sessions, and the opportunity to socialize with fellow Rubyists. Our Call for Proposals has brought in so many interesting conversations", said Lance Vaughn, "This will be the best LSRC yet."
Last year's event was attended by over 300 Ruby developers and presented a range of topics. Sponsors for this year so far include CabForward, Rackspace, Engine Yard, Hashrocket, Jumpstart Lab, Code Climate, Confreaks, and Zurb. This year's training sessions have already been announced and will include beginner and intermediate classes on topics such as paired programming, DevOps, JavaScript front-end frameworks, and more.
Please check the LSRC website for the full agenda, to register, or for sponsorship information.
Event Date & Location
Norris Conference Center July 18 - 20, 2013
2525 West Anderson Lane
Austin TX 78757
Follow on Twitter @LoneStarRuby
CabForward builds and deploys rugged web, mobile and social applications using the latest proven technologies such as Ruby on Rails and iOS. Their team has grown from two to over twenty developers since 2011, all based in Austin, TX. CabForward is a thought leader in customer-driven product development and rugged application design. CabForward donates 1% of its profits to LoneStarRuby Foundation (http://www.lonestarruby.org).