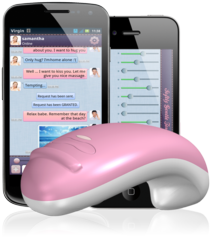 Dublin, Ireland (PRWEB) October 18, 2012
Lack of intimacy and distance between couples are two of the main reasons relationships do not last. The tech startup firm Vibease has created an innovative product that solves both of these issues. The Vibease product consists of a Bluetooth controlled personal massager and private social network app that allows couples to "stay in love." With the Vibease app the user can wirelessly connect to the external massager and control it with an iPhone or Android phone.
The sensual massager is especially fun for couples because it can be controlled from any part of the world. That means couples can stay intimate and share experiences even when they're apart. The app also features private messaging system and photo sharing sure to make those moments even more intimate. This is a perfect solution for long-distance relationship.
Dema Tio, co-founder and spokesperson for Vibease says, "Because of our innovative product, couples can still share private intimate moments that will help them remain physically and emotionally close to one another. Vibease also features a Solo Mode where the user can listen to relaxing ambient sounds and create custom sensations. The massager is even contoured to the shape of a woman making for an even more pleasurable experience."
For now, the Vibease app is available in Android marketplace for free. The iPhone app is still work in progress. The company is now accepting pre-orders with an expected shipping date of February, 2013, making it the perfect Valentine's gift.
Tio goes on to say, "Vibease allows couples and individuals to feel sexy and have a genuine and authentic pleasurable experience alone or with someone they love. Couples who already have tested the product tell us it has helped strengthen their relationships – especially during those times they can't be together. In other words, distance doesn't matter!"
The sexy startup has created quite the "buzz" in the ever-growing sensual technology space, and has already been featured in a few tech blogs. The product integration between app and hardware is also known as appcessories(app + accessory). The firm has already received angel funding from investors and is currently seeking additional investors. The firm will be displaying their wares at the Dublin Web Summit October 17-18th.
Vibease is sure to be a big hit with singles and couples alike. The product is much more than a remote control massager because it allows lovers to create secret and sensual moves sure to curl the toes of the one they love. To learn more about Vibease and to view a demonstration video visit them on the web at: http://www.vibease.com/
About Vibease
Vibease is a tech startup based in Singapore and San Francisco. The firm founded by Dema Tio and Steven Kik. Both founders have strong software development skills and Dema Tio is an electronics enthusiast. The firm is a graduate from Founder Institute startup accelerator.