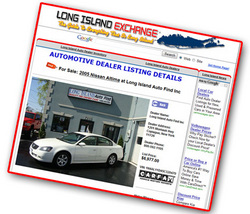 Long Islanders prefer to find what they are looking for on local web sites, from local dealers keeping both their business and their searches on Long Island
Long Island, N.Y. (PRWEB) April 26, 2010
Long Island Exchange Inc. (http://www.longislandexchange.com) has announced the release of new technology enabling local car dealers to directly market their new and used vehicle inventory to the 1.5 million plus local visitors who use the site each year.
"We understand that although many local dealers would like to have their inventory available on local sites like LIExchange.com, that most dealers just don't have the time to list the same vehicles on every website. Time is money, and this is especially true in today's economy. Dealerships which choose to utilize the service can have their entire inventory added and updated to LIExchange.com on a daily basis through data-feeds making the process completely hands off. LIExchange.com will then enable a connection to these listings in the designated new and used car section, as well as on other local sites." said John Colascione, one of the companies four owners, founder, and lead web developer.
"Most dealerships already have a similar system in place to distribute listings to automotive online sites like Cars.com and AutoTrader.com, but although some might expect these sites to be all you need, national sites often lack local appeal. Long Islanders prefer to find what they are looking for on local web sites, from local dealers keeping both their business and their searches on Long Island", said Brian Keegan, owner of http://www.liautofind.com, a licensed New York State Automotive Dealer on Long Island. Mr. Keegan is the first dealership to signup and start taking advantage of the new program.
Long Island Exchange Inc is working courteously with local dealers on a first come first serve basis. Now is an excellent time to set up a data-feed at premier introductory rates likely unheard of in the industry. Be sure to ask about the NO-FEE option.
Dealerships interested in viewing the new dealer section may visit: http://www.liautoexchange.com
About Long Island Exchange Inc.
Long Island Exchange Inc. is a privately owned media company providing Long Islanders with a wealth of information, news, local business data, and resources for planning activities in the area. The web site serves over 1.5 million visitors who generate an average of 5,131,729 page views per year. [*Source: Google Analytics: 08/2009]
###