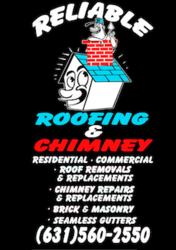 Long Island Chimney Service, Reliable Chimney recently expands to roofing services.
Long Island, New York (PRWEB) April 04, 2013
Chimney Service on Long Island, Reliable Chimney is now cleaning and installing roofs.
Just as the name symbolizes, the services of the Reliable Roofing & Chimney Company are highly reliable. Since their onset twenty-two years ago, they created an impact with their proactive services. Over the years, they have created their own niche, and now the name of Reliable Roofing is named along with the pioneers.
The area of roofing and chimney service is one of the most basic services to support the house. However, not all companies are competent enough to provide the best work. Moreover, those who are doing quality service are charging extremely. Nevertheless, with the roofing and chimney solutions from Reliable Company clients are assured of quality service as well as affordable prices. By comparing the prices of Reliable Roofing with others in the market, one will notice that the services that they offer are impossible for others to provide.
Then how can this company provide such low prices? The reason behind this is that they value for the customers instead of profits. They keep a marginal profit and provide customers total satisfaction. They are willing to go an extra mile or modify their plans according to customers' needs, but they will never compromise with quality. Each worker at Reliable is trained, and only those who have extensive knowledge of working are hired. They have insured, certified, and bonded workers who know their jobs extremely well.
Whether it is the gutter services or the roofing solutions Reliable Roofing and Chimney, is the leading company to be relied on. Chris is the owner of the company and just like his grandfather (who was nicknamed Union Mason); he also excels in accuracy and hard work. They do repair and maintenance of the roofs and gutters.
The roof comprises of only twenty percent of the house, but if it is not maintained properly, the well being of the entire house is jeopardized. Similarly, the gutters too need proper maintenance and repair. If they are not taken care then, rainwater may not only create ugly spots on the walls, but also creep in the house particularly the basement. Therefore, homeowners must maintain the roofs, gutters and with the maintenance plans Reliable offers. It can save you time and money.
Email : chris(at)reliablechimneyli(dot)com
http://reliablechimneyli.com
Ph# (631)560-2550
Office Hours - 7am -7pm