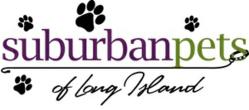 Long Island Dog Walking Company, Suburban Pets gives back to the community...
Massapequa, New York (PRWEB) January 10, 2013
Suburban Pets is a Long Island Dog Walking and Pet Sitting Company and is currently looking for the "Cutest Pet". Every pet owner thinks their pet is the cutest but Suburban Pets is putting them to the test. Pet owners can email Suburban Pets a picture of their dog or cat to go on their website. Web visitors will vote on each pet to see who is Long Island's cutest Pet. Check Suburban Pets website for details.
Suburban Pets is a local, dedicated provider for pet services including dog walking and pet sitting. President of Suburban Pets, Therese Villemure, has one major goal in mind, and that's to provide quality, affordable pet care to Long Island families. She has lived here her whole life and understands that living here can be quite expensive. With the high costs of renting or owning a home on Long Island, taking care of a pet could be quite overwhelming. Until now!
Whether clients work long hours, commute on the LIRR, or have other commitments Suburban Pets makes it easy for clients to live their life and keep their pets safe and happy! The company is based in Massapequa Park, in the heart of Long Island. This is a Long Island based company that truly cares about serving the pets of the community. What started out as a hobby has turned into a company that has not lost sight of its passion for animals. They keep a close relationship with all their clients and go out of their way for last minute pet needs and schedule changes. "If you want the best for your pets, without breaking the bank, call Suburban Pets"! Comment Therese Villemure, Suburban Pets CEO and Founder
Or, visit their website today: http://www.suburbanpets.com