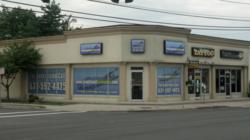 In addition to our aggressive marketing techniques including online, television, signs and radio, our team has been acquiring some of Long Island's oldest digital web sites
Long Island, NY (PRWEB) September 26, 2012
Long Island Exchange Inc. (http://www.longislandexchange.com), a privately owned media company providing Long Islanders with a wealth of information, news and local business data, is pleased to announce the expansion of their facilities with additional office space, effectively tripling its physical presence on highly visible intersection at 1210 Montauk Highway (Route 27), Copiague, Long Island, NY.
Long Island Exchange completed the expansion in mid-September. John Colascione, Founder and Managing Partner of the digital news and advertising agency, said that the additional office space accounts for "a strategic decision" geared towards taking our business to "the next level" and is a small example of the new growth the business is experiencing.
"In addition to our aggressive marketing techniques including online, television, signs and radio, our team has been acquiring some of Long Island's oldest digital web sites such as mylongisland.com, licentral.com and newsli.com, just to name a few of the over five-hundred (500) localized digital assets we have now acquired." said Brian Keegan, President and Chief Executive Officer of Long Island Exchange Inc.
A ribbon cutting ceremony by the Lindenhurst Chamber of Commerce, is scheduled to take place on location sometime in October, and will include New York State, Suffolk County and Babylon Town officials to welcome the new location. Dates will be announced within the next few weeks.
LongIslandExchange.com is well recognized as the leading city guide for Long Island residents as well as visitors to the area. The site offers credible, well edited, and monitored local information, news, free classifieds, and reporting making it the leading localized portal. The online periodical is one of very few aggressively marketed, competitive and remaining digital properties in its market and the company owns the majority of Long Island's original web portals through strategic acquisition over the years.
About Long Island Exchange Inc.
Launched in 2002, LongIslandExchange.com is a privately owned media company providing Long Islanders with a wealth of information, news, local business data, and resources for planning activities in the area. The web site serves over 1.8 million visitors who generate an average of 4,260,417 page views per year. [*Source: Google Analytics: 08/2012]. The site has won five awards from BOLI, Best on Long Island, in best of categories like "News, Media and Publications" as well as "Best Web Site of the Year".