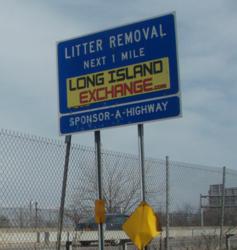 Keeping our roads clean through Sponsor-A-Highway is a great way to get more involved with our Island, contribute to a cleaner environment, and help keep drivers safe from hazardous debris
Long Island, NY (PRWEB) January 20, 2013
Long Island Exchange Inc. (http://www.longislandexchange.com), a privately owned media company providing Long Islanders with a wealth of information, news and local business data, has signaled their commitment to keeping Long Island beautiful by adopting a stretch of highway and keeping their designated section litter-free.
POW-MIA Memorial Highway first begins in Brooklyn as Route 27, it continues and changes to both Sunrise Highway and Route 27 in Queens near the Brooklyn/Queens County line and continues through both Nassau and Suffolk counties to Montauk where it changes to 27A. Every township on the South Shore is accessible through Sunrise Highway.
"Keeping our roads clean through Sponsor-A-Highway is a great way to get more involved with our Island, contribute to a cleaner environment, and help keep drivers safe from hazardous debris." said John Colascione, Managing Partner and Founder of Long Island Exchange Inc.
LongIslandExchange.com is well recognized as the leading city guide for Long Island residents as well as visitors to the area. The site offers credible, well edited, and monitored local information, news, free classifieds, and reporting making it the leading localized portal.
Under contract with the NYSDOT, East Coast Highway Maintenance Corporation (ECHMC) will inspect and clean the sponsored area along Sunrise Highway in West Islip just East of RT 231. The area will be maintained two to four times per month.
About Long Island Exchange Inc.
Launched in 2002, LongIslandExchange.com is a privately owned media company providing Long Islanders with a wealth of information, news, local business data, and resources for planning activities in the area. The web site serves over 1.8 million visitors who generate an average of 4,260,417 page views per year. [Source: Google Analytics: 08/2012]. The site has won five awards from BOLI, Best on Long Island, in best of categories like "News, Media and Publications" as well as "Best Web Site of the Year".