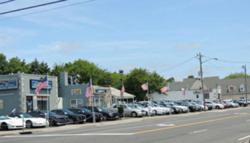 We specialize in high quality top-of-the-line vehicles and offer extended warranties which are priced well below market value
Copiague, NY (PRWEB) September 10, 2012
Long Island Auto Find Inc. (http://www.liautofind.com) specializes in used car and truck sales has purchased the former lot of a neighboring car dealer effectively increasing their vehicle capacity to nearly double its previous size. The expansion allows the Long Island Auto Find to accommodate an additional eighty (80) vehicles, in addition to fitting another fifteen (15) to thirty (3) along the 125-foot front line of the property located on the corner of Montauk Highway and Hawkins Boulevard in Copiague.
Long Island Auto Find has already begun filling this new space with quality, pre-owned vehicles from its high volume of trade-in transactions. "We put our reputation on the line for each unit coming out of our showroom. Each vehicle offered for sale is handpicked and our service center conducts a thorough assessment with complete check-ups for all vehicles. We specialize in high quality top-of-the-line vehicles and offer extended warranties which are priced well below market value. Our warranty companies have reduced our rates due to the volume of vehicles we sell and our great track record. We can than pass these savings on to our customers." said Brian Keegan, Chief Executive Officer.
"With more space we also have more buying ability, so we're asking for all Long Islanders who have been thinking of trading in their vehicle to give us a call at (800) 592-1105 or visit our web site to view our extensive inventory. Our in-house financing specialists will get you approved for a newer vehicle and drive out today "he added.
Long Island Auto Find Inc.
As one of the leading used-car dealers on Long Island, Long Island Auto Find takes pride in servicing its customers offering quality pre-owned cars, trucks, and SUVs. Residents of Long Island looking for the best trade-in offers can expect fast, knowledgeable, professional service, fair prices, and the ability to drive off the same day with their purchase of a quality used car.
For more information visit: http://www.liautofind.com