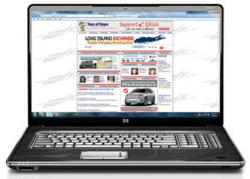 There has never been a better time to advertise a local business on LIExchange.com
Long Island, N.Y. (PRWEB) October 15, 2012
Long Island Exchange Inc. (http://www.liexchange.com), a privately owned media company providing Long Islanders with a wealth of information, news and local business data, has released an aggressive two-part ad campaign targeting the Long Island New York area. The campaign places LongIslandExchange.com on both television with News 12 and on the Island's airwaves with 94.3 FM (The Shark).
"There has never been a better time to advertise a local business on LongIslandExchange.com. Advertising on LongIslandExchange.com also includes advertising on other local Long Island web sites. In addition to our aggressive marketing techniques our team has been acquiring some of Long Island's oldest web sites such as mylongisland.com, licentral.com and newsli.com, just to name a few. When we do this, we add direct links to our advertisers on these web sites as well which translates into more ways for consumers to find our customers. It also means we can offer a much better bang for the buck when businesses choose how to utilize their marketing dollars on Long Island." said John Colascione, Founder and Managing Partner of Long Island Exchange Inc.
A sixty (60) second radio commercial dubbed "Everything You Need" plays on Long Island's 94.3 FM (The Shark) in conjunction with a 15 second commercial visible on Long Island cable station News 12. The sixty second commercial airing on 94.3 FM was also used to create the commercial for News 12 Long Island, keeping the company's message clear. "Long Island Exchange is all you need to find out all you want about Long Island; LongIslandExchange.com.
LongIslandExchange.com is well recognized as the leading city guide for Long Island residents as well as visitors to the area. The site offers credible, well edited, and monitored local information, news, free classifieds, and reporting making it the leading privately owned localized portal.
The campaign is expected to reach is over 750,000 homes along with 250,000 thousand listeners reaching a total of over 1,000,000 Long Islanders.
About Long Island Exchange Inc.
Launched in 2002, LongIslandExchange.com is a privately owned media company providing Long Islanders with a wealth of information, news, local business data, and resources for planning activities in the area. The web site serves over 1.8 million visitors who generate an average of 4,260,417 page views per year. [*Source: Google Analytics: 08/2012]. The site has won five awards from BOLI, Best on Long Island, in best of categories like "News, Media and Publications" as well as "Best Web Site of the Year".
For more information please visit http://www.liexchange.com