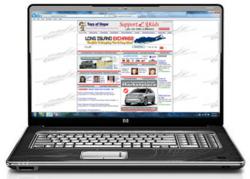 News 12 is the ideal venue for us as just about everyone watching the channel at any given time lives on Long Island, our exact target prospect
Long Island, NY (PRWEB) September 04, 2012
Long Island Exchange Inc. (http://www.longislandexchange.com) has released the first round of an ad campaign targeting the Long Island New York area. The new campaign replaces previous spots in digital format posted on YouTube and reaching nearly 100,000 views. The new TV campaign reduces the previous 52 second spot to a shorter television quality 15 second commercial airing on Cablevision's most popular news program News 12 Long Island.
"In the same style as the first spot, the second titled 'Everything You Need' was created by Cablevision to feature screenshots of the service along with a voiceover designed to shorten and mimic the basic message of the original. Long Island Exchange is all you need to find out all you want about Long Island" said John Colascione, Managing Partner and Founder of Long Island Exchange. "News 12 is the ideal venue for us as just about everyone watching the channel at any given time lives on or is from Long Island, our exact target prospect." he added.
News 12 Long Island is a regional 24-hour cable news channel, which according to Wikipedia, reaches more than 800,000 television homes on Long Island, New York. LongIslandExchange.com, visited by over 1.8 million people a year, is recognized as the leading destination for Long Island residents as well as visitors to the area, offering credible and easy-to-understand information for those who live and work on Long Island New York.
Long Island Exchange Inc. also released a sixty (60) second radio advertising campaign on Long Island's 94.3 FM (94X WIGX-FM). The new 94X, a re-launch of the station in 2010, is geared towards the "Generation X" market; those born between 1961 and 1981, and focuses its programming on '90s centric pop hit music spanning three decades. The sixty second commercial airing on 94.3 FM is the exact voiceover from the original 52 second spot which was used to create the commercial for News 12 Long Island, keeping the company's message clear. "Long Island Exchange is all you need to find out all you want about Long Island; LongIslandExchange.com.
About Long Island Exchange Inc.
Launched in 2002, LongIslandExchange.com is a privately owned media company providing Long Islanders with a wealth of information, news, local business data, and resources for planning activities in the area. The web site serves over 1.8 million visitors who generate an average of 4,260,417 page views per year. [*Source: Google Analytics: 08/2012]. The site has won five awards from BOLI, Best on Long Island, in best of categories like "News, Media and Publications" as well as "Best Web Site of the Year".
For more information please visit http://www.longislandexchange.com