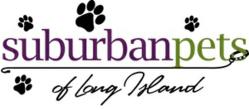 Suburban Pets adds new blog post.
Long Island, NY (PRWEB) September 22, 2012
Some people fail to realize it, pets are a huge part of our society and personal lives. For some people enjoy a loving cat.  Others it is a playful dog.  For others still it can be a more exotic animal such as a bird.  Whatever pet customers enjoy, they need to know about a company called Suburban Pets. 
Suburban pets is a company that is dog walkers and part pet sitter.  They offer a wide variety of services to their many clients.  They can give you basic pet tips, watch customers pet while they are on vacation, or even just take care of them while customers are at work.  As a loving pet owner, customers can do no better for their animal, as they are leaving their pets in one of the most trusted names in the business. 
Their love of pets is obvious from their own mission statements.  They have donated pets, sponsored pets, donated to funds to help pets, and as mentioned, even protested on their behalf.  It is difficult to find a more trusting place to leave customers pets when they are unable to provide for them.
Suburban Pets fully services both Nassau and Suffolk County.  They are located in Massapequa New York.  Additionally, they are fully insured, giving you the peace of mind that customers pets will be safe.
Suburban Pets offer many benefits.  For example, they will keep customers dog on his regular dietary schedule, ensuring that customers dog's regimen will not be interpreted.  They also provide On their site, you can see a number of pictures of dogs that suburban pets have already serviced in the past as well as testimonials attesting to their great customer service.  Furthermore, clients can also see their affordable prices and rates that are clearly laid out on their site. 
In a time when most of us are busy working running from one place to the next, having a company who will love and care for clients pets when they can't is quite a benefit.  Suburban Pets will give clients pet the personalized service that it needs.  In addition, they will treat customers pet as if it is one of their own.  Why?  Simply because they love all animals. 
For those interested feel free to visit their website located at suburbanpets.com
Suburban Pets
516.698.7182
http://www.suburbanpets.com