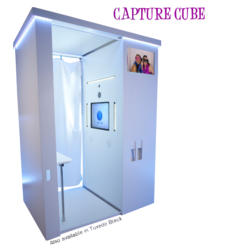 Winner of the Long Island Press Best Photo Booth Award
Commack, NY (PRWEB) January 06, 2012
Long Island Press is widely known for publishing its yearly "Best Of" series in which businesses throughout Long Island are nominated by Long Islanders as the best of a particular service or product. For years business owners have coveted the prize and during voting season many local shops can be seen posting voting reminders for their clients.
This year, there was a new category, photo booths. The goal was to find a Long Island photo booth rental company who could claim the #1 spot. After roughly 2 months of voting, Long Island Press tallied up the votes and in the first week of January announced that Incredibooths was chosen amongst all others as the best Long Island photo booth! "This award is a testament to the amazing team we've built to serve our clients as well as our promise to only offer the best. In a market where it seems everyone all of a sudden has a photo booth, we are seeing all sorts of make shift 'photo booths' many at extremely low prices. We decide long ago to hold the line on a fair price but provide an exceptional photo booth and exceptional service. It seems that the public and our clients like our formula and we are ecstatic to have been chosen" says Dennis Sea of Incredibooths.
The Incredibooths line-up includes two booth styles including the Capture Cube, and the recently re-designed and re-named PhotoSphere. Both photo booths sport sleek all white exteriors that can be lit with LED lighting as well as professional camera equipment and blazing fast 7 second dye sublimation photo printers for instant on-site lab quality results every time. Some other things that make the booths stand out are the fun external screens which give passersby a glimpse of the fun inside the booth as well as sharing options to email and social media web-site.
For information on how to rent Long Island's Best Photo Booth contact Incredibooths' Photo Booth Long Island division at 631-320-8580 or by visiting their web site at http://www.incredibooths.com
###