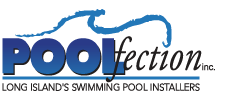 Long Island Swimming Pool Contractors, Poolfection is celebrating over 25 Years in Business
Hauupauge, NY (PRWEB) April 13, 2013
Poolfection, based in Long Island NY, is celebrating 25 years in pool business. They offer all swimming pool services including, pool cleaning and checking chemical balance, emergency repairs, filter cleaning, liner replacements, covers, renovations, and adding water features.
Their several years of experience, along with quality customer service, have earned them a good name in local community. Their wide range of services enables them to attend any type of pool cleaning and renovation services in their area. Their online presence with an up-to-date website educates customers on how to effectively maintain their pools. They have also emphasized on safety of pools which is the most important aspect of owning a pool.
"We are thankful to our customers for their continued support and trust in our services. We have highly trained and experienced technicians to work on any type of pool problem. In the past several years we have provided outstanding service to our (growing) residential and commercial customer base,' said the company spokesperson.
A Pool is a wonderful place for recreation as well as exercise for the whole family and friends. Regular cleaning and maintenance of pools ensures that it is safe and ready to use at all times. Long Island pools help create a little oasis by installing pools in your backyard where you can relax and unwind.
When a pool company completes more than two decades of professional service, it is quite significant. It shows their dedication to their profession. "Our combination of passion for excellent customer service and our knowledge in pool industry has driven our business since the beginning. Our pool installation services are among the best in tri-state area. We are very pleased that today we have completed 25 years in this industry. We hope to continue providing our pool maintenance services for many more years to come," said the company spokesperson.
Check out their website for details of all services they offer. To request a quote or more information, call 631.360.6630 or visit their store online http://www.poolfection1.com.
Poolfection
531 Route 111
Hauppauge, NY 11788
Phone: 631.360.6630