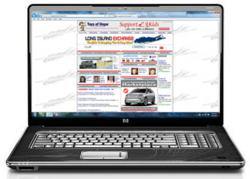 We are currently developing a national protege that will piggy back on this technology which we expect to be released very shortly, possibly in the next few weeks
Long Island, NY (PRWEB) December 31, 2012
Long Island Exchange, Inc. (http://www.longislandexchange.com) a digital news and information portal specifically for Long Island New York has announced the release of a consumer friendly search service which will revolutionize automotive searching on Long Island. Residents looking to buy a used vehicle by visiting liusedcars.com, a URL acquired as part of the roll out to help brand and build traffic for the portal, will find a selection unique to Long Island, with search services providing full dealership inventory within the area codes of [516] (Nassau County), [631] (Suffolk County) [917] (Brooklyn County) and [718] (Queens County).
Chief Executive Officer Brian Keegan says, "Local residents don't have time to search twenty different automotive sites when looking for new or used cars. Time is money, and this is especially true in today's economy. By using http://www.liusedcars.com consumers get quick, simple access to local used car dealer inventory without having to check multiple sites. Most used car and truck sites target users nationally; presenting vehicles from across the nation. No other region in the United States offers a specific portal for searching used cars in a local market with sophisticated technology as advanced at this new and exciting service."
"Over the past month or so while we have been beta testing this new technology, the automotive section has become the fastest-growing service we've seen in the 10+ years we have spent running longislandexchange.com. I am pleased to also reveal to you today that our team is currently developing a national protege that will piggy back on this technology which we expect to be released very shortly, possibly in the next few weeks," said John Colascione, Founder and Managing Partner of Long Island Exchange Inc.
About the Company
Long Island Exchange, Inc. is a media company that was first launched in 2002. It is privately-owned and offers Long Islanders and surrounding residents a portal of information including news, business data, classifieds and other important resources. LongIslandExchange.com is a free service with no subscription fees, membership dues or charges to access information and has won several awards, including "Best on Long Island" and "Best Website of the Year". The site frequently appears at the top of other 'best of' categories for news and media publications.