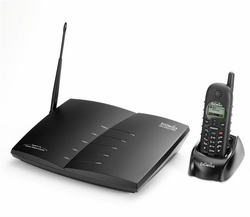 Irving, Texas (PRWEB) March 4, 2010
Deep in the heart of Texas, valued residents of Signature Assisted-Living Communities are living more comfortably knowing their caregivers are always accessible due to the addition of the DuraFon 4 Line Long Range Cordless Phone System. Already installed in eleven Signature assisted living facilities, the new cordless phone system addresses a very specific need - dependable, clear and immediate communication across multiple locations.
"We, at EnGenius, are delighted that the DuraFon Pro Cordless Phone Systems were selected by Exordium for Signature Properties. And, we are certainly confident that those units will more than adequately meet the high demands of the assisted living staff and deliver additional patient well being", said Doug Bowersox, Product Manager at EnGenius Technologies.
The designer and installer, Exordium Networks, understood the level of importance placed on immediate communication in the Signature Assisted-Living environment. A lost call or missed alarm could sometimes mean the difference between life and death at Signature. Therefore, Exordium facilitated the development of a system with cordless phones that reliably communicated over the entire Signature assisted living facility, were extremely durable and easy to install. After careful consideration, they chose the DuraFon Pro Long Range Cordless Phone Systems developed by EnGenius Technologies.
"Our staff must be immediately available to every resident, no matter where they are physically in the community. Currently, each and every staff member carries an EnGenius' DuraFon Pro cordless phone. This has finally resolved the critical issue of always being reachable. In addition, the well-integrated handsets are used to notify our staff of alarms, to act as voice paths to talk to a resident or a person at the front door, and to offer access to identified visitors. "The care and safety of our residents rely heavily on the efficiency of the DuraFon Pro cordless phones", remarks Abdulla Kagalwala, CFO of Signature Properties.
Additional features of the DuraFon Pro Phone Systems include:

Expandability with up to 90 handsets and 32 lines/ports
Proven durability, withstanding 6 foot drops
Ability to communicate over long-distances, up to 250,000 square feet or 12 floors of a building
Serving as multiple functions; such as typical phone handset or 2-way radio.
Meeting HIPPA requirements
Immunity to other 2.4 GHz wireless device interference
Compatibility with most PBX and Nurse Call systems
Due to this versatility, Signature Properties was able to quickly and inexpensively integrate the reliable DuraFon Pro handsets into their critical communications system. The DuraFon Pro cordless phones are now being carried by over 100 Signature staff members, whose job is to offer superior care to hundreds of valued assisted living residents. With the powerful functionality offered by these DuraFon Pro cordless phone systems, Signature Living caregivers are able to perform their primary roles with devotion and compassion unencumbered by the danger of life threatening communication failures. State-of-the-art wireless technology has indeed brought comfort and security to both the residents and caregivers of Signature Assisted-Living Communities.
For additional information about the DuraFon Pro or other EnGenius products, please visit http://www.EnGeniusTech.com.
For additional information about Signature Assisted-Living Properties and their services, please visit http://www.SignatureSeniorLiving.com
For additional information about Exordium Networks and their services, please visit http://www.ExordiumNetworks.net
About EnGenius Technologies
EnGenius Technologies is a global technology innovator specializing in long-range telephone and data communications. The company pioneered the "Affordable Long-Range Wireless" product category. Its award winning, long range devices consistently outperform competitors' deployment coverage. Established in 1999, EnGenius Technologies, Inc. is a wholly-owned subsidiary of Senao Networks, a Taiwan RF communications manufacturing company.
About Signature Assisted-Living Communities
Signature Senior Living, LLC owns and manages the highly reputable Signature Assisted-Living Communities found throughout Texas. Formed in March of 2005, Signature Senior Living, LLC has grown to 12 individual properties offering a variety of floor plans, customized living choices and special services, such as memory care and assisted living.
About Exordium Networks
Exordium Networks Inc, based in Texas, provides a variety of high-value technical services to both small companies and large enterprises. Using only the highest quality network elements, Exordium offers unique, customized VOIP solutions. In addition, they have teams that offer extensive I.T. services as well as professional project management services.
###