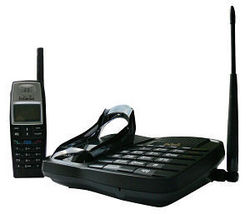 We are excited about the launch of our new FreeStyl 1 long range cordless phone system. It's safe to say our FreeStyl 1 system offers more expanded coverage than any other consumer rated cordless telephone in North America
Costa Mesa, CA (PRWEB) May 25, 2010
EnGenius Technologies, Inc., award-winning innovator of long range wireless technology, has announced the launch of the FreeStyl 1, a single line long range cordless phone system that uses powerful technology for expanded indoor and outdoor coverage for residential use. While the DuraFon Pro and DuraFon 1x, our durable long range cordless phone systems, are designed for industrial use, the FreeStyl 1 combines a sleek design, robust technology and an array of key features that make it perfect for use in offices and homes.
Using innovative technology, the FreeStyl 1 system provides up to 10 acres of outdoor coverage, up to 6 floors of in-building penetration and up to 25,000 square feet of indoor coverage. Other features of the FreeStyl 1 include a multi-language setup option, built-in speakerphone on both the base and handset units and a two-way radio for instant communication. The wireless intercom is private and secure and works as a two-way radio from either handset to handset or handset to base. The FreeStyl 1 allows for a total of 9 cordless handsets per base.
EnGenius Technologies has been known for the rugged DuraFon products critical for industrial environments, and can now offer residential and business customers a slim and lightweight portable telephone for those that don't require the industrial durability. "We are excited about the launch of our new FreeStyl 1 long range cordless phone system. It's safe to say our FreeStyl 1 system offers more expanded coverage than any other consumer rated cordless telephone in North America," says Douglas Bowersox, Product Manager. Traditional cordless phones operate on DECT, 2.4Ghz or 5.8Ghz frequencies, while the FreeStyl 1 uses lower frequencies to provide far more coverage than that of other competing brands.
Key features of the new powerful FreeStyl 1 include:

Range Extender - Superior penetration through concrete, wood and dry wall for multi-level and outdoor range.
Built-In Intercom/Radio - Acts as a two-way radio for instant, alternative forms of wireless communication.
Expandability - Supports anywhere from 1 to 9 handset(s) per base.
WiFi Friendly - Will not interfere or cause disruption with WiFi-networks.
Hands-Free Speakerphones - Speakerphone use on either handset(s) or base.
The FreeStyl 1 is also equipped with standard features including call transfer, call ID w/call waiting, 50 entry call ID phone book, any answer key, selectable ring tone and vibrate options, 2.5mm headset jack, key guard and call barring. The FreeStyl 1 cordless phone systems are efficiently designed for easy installation, easy step by step programming and rapid charging.
The reaction from users of the FreeStyl 1 has been quite favorable. "I have been really pleased with the EnGenius FreeStyl 1 phone. I like it because of its long range capability, its convenient size, long talk time, plus the two-way radio feature is so easy to use. I use it in both my home-based business and home environments, and would recommend the FreeStyl 1 to anyone looking for a sleekly designed long range cordless phone. I live on the California side of the Colorado River, and I am able to crossover to the Arizona border and even take the golf cart to the local store yet never miss a call with the FreeStyl 1 phone. Cell phone service is often scarce along the Colorado River, but the FreeStyl 1 always seems to be connected," says Frank Bailor a California resident.
The EnGenius product development team specifically designed the FreeStyl 1 for use in large estate homes, ranch and farm style homes, apartment buildings, SOHO environments, condominium communities and resorts to allow for maximum indoor and outdoor coverage without interruption of service. "In addition, the FreeStyl 1 is WiFi compatible and designed to not interfere with today's wireless networks, and is one of the most powerful systems available for consumer use," Bowersox adds.
FreeStyl 1 can be purchased through any of our valued resellers or order online at a variety of online retailers. All EnGenius branded products are sold via our nationwide distributor channel. For additional information about the FreeStyl 1 or other EnGenius products, please visit http://www.EnGeniusTech.com.
About EnGenius Technologies
EnGenius Technologies is a global technology innovator specializing in long range telephone and data communications. The company pioneered the "Affordable Long Range Wireless" product category. Its award winning, long range devices consistently outperform competitors' deployment coverage. Established in 1999, EnGenius Technologies, Inc. is a wholly-owned subsidiary of Senao Networks, a Taiwan RF communications manufacturing company.
# # #