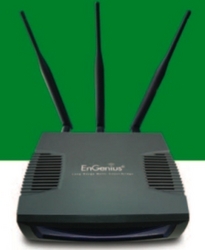 Like all of our products, we've engineered the ECB9500 to provide superior WiFi coverage and transmission speed to all the leading brands in its class
Costa Mesa, CA (PRWEB) January 29, 2009
The ECB9500 is the latest long range WiFi device from highly successful, award-winning wireless leader, EnGenius Technologies. Using the 802.11n wireless standard and a dynamic Gigabit Ethernet port, the ECB9500 offers fast, reliable data transmission over a wide-area for both wired and wireless clients.
"EnGenius has built its reputation on its ability to engineer powerful, long range WiFi enterprise-level products. The ECB9500 lives up to these standards," comments Roger Chien, Product Manager.
To reliably serve wireless clients, the ECB9500 uses new advances in wireless technology. Using the 802.11n standard, the ECB9500 is capable of delivering wireless transmissions up to 300Mbps (6x faster than 802.11g.). And, its high-gain detachable antennas use MIMO (Multiple In, Multiple Out) technology and 5dbi antennas in order to optimize traffic performance and transmit wireless power up to 300 mW EIRP. This enables the ECB9500 to reach a wider range than the average comparable product.
Over wired communications, the ECB9500's Gigabit Ethernet port transfers data at a rate 10 times faster than Fast Ethernet. This feature is ideal for businesses transmitting large amounts of streaming data; such as, video-conferencing, multimedia applications or VoIP (Voice-over IP).
"Like all of our products, we've engineered the ECB9500 to provide superior WiFi coverage and transmission speed to all the leading brands in its class," added Chien.
The key features and benefits of the ECB9500 are:

Wireless N Multi-Functional Device - performs multiple uses for different network topologies
Multiple Wireless Names - permits different access levels within one device
Gigabit Ethernet Port - optimizes the speed of wired-data transmissions
High-Gain Detachable Multi-Antennas - increases coverage and performance with MIMO (Multiple In, Multiple Out) technology
Power-Over-Ethernet (802.3af)- allows the power and data to come over one cable for ease of installation
Almost any enterprise can take advantage of the ECB9500's power and range since it is adaptable to most network environments. For example, in AP mode, the ECB9500 can broadcast multiple WiFi networks (SSID); allowing for numerous security levels within one device. In fact, ECB9500 can serve different functions:
The ECB9500 functions in any one of the following modes:
1. Wireless Access Point - network connectivity for multiple wireless clients
2. Client Bridge - wireless network connectivity for a single wired client
3. Universal WiFi Repeater - wireless range extender that reaches dead-spots
4. Wireless N Router - wired internet or network connectivity for all wireless clients
5. Client Wireless N Router - wireless network connectivity for multiple wired clients
6. WDS (Wireless Distribution System) - wireless connectivity to expand an established network
If the network topology or applications change, the ECB9500 can always be re-enabled to perform in one of its other modes. This feature makes the ECB9500 a cost-effective wireless solution.
EnGenius solved one of the biggest problems when installing a new wireless networking product: proximity to outlets. The ECB9500 supports 802.3af PoE (Power-over-Ethernet), allowing power and data to flow over a single cable. This feature helps to speed up deployment time and reduces network down time.
The EnGenius ECB9500 long range WiFi 802.11n Gigabit Wireless Access Point/Client Bridge is an efficient, powerful wireless networking product that can adapt to many network topologies. It is available at select value added distributors, direct marketers, e-commerce sites and value-added resellers at a retail price of $119.00.
For addition information about the ECB9500 or other EnGenius products, please visit http://www.engeniustech.com.
About EnGenius Technologies:
EnGenius Technologies is a global technology innovator specializing in long range telephone and data communications. The company pioneered the "Affordable Long Range Wireless" product category. Its award winning, long range devices consistently outperform competitors' deployment coverage. Established in 1999, EnGenius Technologies, Inc. is a wholly-owned subsidiary of Senao Networks, a Taiwan RF communications manufacturing company.
###