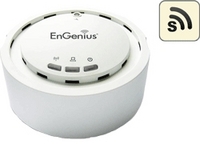 design prevents equipment tampering and allows the access point to blend into well-appointed residential interiors.
New Haven, CT (PRWEB) August 25, 2009
EnGenius Technologies, Inc., developer of innovative wireless technology, announces the strategic partnership with Spot On Networks, LLC, one of the largest high speed wireless internet service providers serving multifamily residential communities. Spot On Networks has selected the EnGenius' EAP-3660 Wireless Access Point/Repeater as a standard in the installation of its managed wi-fi services. Already installed in three properties in the North East, the EAP-3660 Access Point will begin to appear in many future Spot On networks' applications.
"We, at EnGenius, are excited to have Spot On Networks select our high-powered EAP-3660 as the standard wireless access point for their multifamily industry managed wi-fi services ," said Andy Chang, General Manager of EnGenius Technologies Inc.
With the help of Keenan Systems, a master reseller offering wireless network solutions, Spot On Networks recognized the distinct advantages of the EAP-3660 in the power to efficiently service their multitude of consumers over a wide-area as well as the ease of installation. Keenan Systems facilitated the communication between EnGenius and Spot On Networks, leading to the strategic partnership between the two and allowing EnGenius to work directly with Spot On Networks to help continue to meet its wireless technology needs.
According to Tom Doyle, Senior Vice President and Chief Operating Officer of Spot On Networks, they chose EnGenius' wireless access point, the EAP-3660, for three unique features that make it highly adaptable to multifamily properties. "The EAP-3660 is a high-powered device that operates at 600MW of power, enabling it to sustain a strong wireless signal over long distances thus providing our residents with a robust, usable wireless signal in their apartment homes on the property. Second, the device's installation is simplified by its use of POE (Power-over-Ethernet), which eliminates the need for a nearby power outlet. And, finally, the unique "smoke-detector" design prevents equipment tampering and allows the access point to blend into well-appointed residential interiors."
Additional features of the EAP-3660 include:

Multiple Wireless Names - broadcasts multiple wi-fi networks from one device.
Embedded Antenna - allows for omni-directional signal with an unobtrusive design
Super G 108 Mbps - supports Super G clients allowing for better wireless data transfer for multi-media applications (VoIP, gaming, media streaming, etc.)
Universal Repeater Mode - eliminates dead-spots in hard-to-reach areas without the need for cabling.
To date, Spot On Networks is using the EAP-3660 in conjunction with its proprietary monitoring and control platforms to provide the most advanced high-speed wireless internet service available to the multifamily industry. With up to 108Mbps available at the EAP-3660 Access Point, Spot On Networks can provide blazing data speeds to its residents no matter where they are within the residential complex, as well offering enhanced reliability and quality customer service.
For additional information about the EAP-3660 or other EnGenius products, please visit http://www.EnGeniustech.com.
For additional information about Spot On Networks and their services, please visit http://www.spotonnetworks.com/index.php
For additional information about Keenan Systems, LLC and their products and services, please visit http://www.keenansystems.com/
About EnGenius Technologies
EnGenius Technologies is a global technology innovator specializing in long-range telephone and data communications. The company pioneered the "Affordable Long-Range Wireless" product category. Its award winning, long range wireless devices consistently outperform competitors' deployment coverage. Established in 1999, EnGenius Technologies, Inc. is a wholly-owned subsidiary of Senao Networks, a Taiwan RF communications manufacturing company.
About Spot On Networks
Spot On Networks is headquartered in New Haven, CT with satellite offices in AZ, CA, FL, MA, and NY. For the last five years, SON has contracted with residential property developers throughout the United States to provide managed High-Speed Wireless Internet Access in residential multi-family dwelling complexes encompassing nearly 30,000 residential units.
About Keenan Systems, LLC
Keenan Systems is a network consulting company headquartered in Connecticut. They specialize in long range wireless equipment, metro area wireless equipment, wireless management and monitoring solutions and . They offer a breadth of industry knowledge with proven methodologies.
###