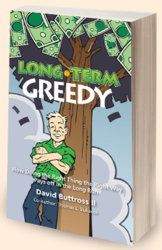 David has been able to have a very successful personal and business life due to his philosophy that he calls 'Long-Term Greedy'
Austin, Texas (PRWEB) February 01, 2013
David Buttross, local business leader and real estate investor who has participated in more than $250 million in real estate transactions, has released a new book detailing his business philosophy called "Long Term Greedy." For more information about this book, please visit http://www.long-term-greedy.com.
In 'Long-Term Greedy', Mr. Buttross details his experience and shows how anyone can start from humble beginnings and wind up with their own fortune through real estate.
"The days of going to school, working for someone else, and retiring with a comfy pension are gone," says Mr. Buttross, who in addition to real estate investing, is also an angel investor, manages a small business incubator, and provides consulting services to small businesses. "Too many people have become frustrated and desperate to make as much money as they can in as short a period of time by any means. This 'short-term greedy' philosophy has destroyed our country, cost us jobs, taken our homes and driven us into a prolonged recession."
Real estate expert David Buttross discusses his philosophy of 'Long-Term Greedy' and how doing the right thing the right way pays off over the long run.
To read an excerpt of his book, please visit http://www.long-term-greedy.com/excerpt/
"More and more Americans are now realizing the truth," continues Mr. Buttross. "If you want to provide a safe financial future for yourself and your family, then you must own your own business…and the best business to own is a real estate business. In this book, I will show you the best way to build that business, not just in the short term, but in the long term, so you can create a legacy for your family."
David will detail where things went wrong in the housing and banking industries and what anyone can do to be successful in real estate the right way. David didn't come from money. His father was in the military and his mom was a stay-at-home mom. But his humble beginnings didn't hold him back at all. Rather, it taught him how to build a profitable business the right way.
"David has been able to have a very successful personal and business life due to his philosophy that he calls 'Long-Term Greedy'," says co Author Tom Bukacek, who recently authored a best seller with Dan Kennedy called 'Marketing Miracles'. "He didn't inherit a fortune, he built it through hard work, smart business acumen, and a desire to create 'win-win'relationships with everyone he encountered."
To find out how David Buttross was able to create a gigantic real estate empire and how anyone can do the same, please visit here.