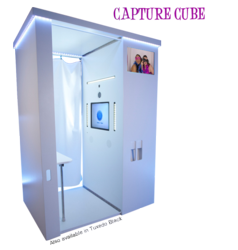 Incredibooths luxury long island photo booth rental helps bring in 2012
Hicksville, NY (PRWEB) December 30, 2011
New Years Eve is always the perfect excuse to let loose, have some fun and do something interesting and different. It's a fantastic opportunity to create great memories with you and your loved ones. Amongst other venues, Incredibooths photo booth rentals will be part of an amazing New Years Eve spectacular taking place on Saturday, December 31, 2011 at the recently updated Huntington Hilton Hotel located on Route 110 in Melville, NY.
The event planner is Andres "Echo" Diaz of The Echo Agency and he is promising to deliver an incredible time not soon to be forgotten. The evening will include music by all-star DJ Giovanni and have all the glitz and glam of a Hollywood premier. There will be a top shelf open bar, music, dancing, champagne toast,party favors, amazing laser light show, and other entertainment that is sure to wow all in attendance.
"It's going to be insane - we've thought of every detail to ensure that this New Years Eve is the best one ever for those in attendance. Tickets are very limited so get them asap!" says Echo.
Also on site and ready to capture the optimistic smiles for a better 2012 will be Incredibooths with a luxury long island photo booth.
You can celebrate 2012 at the Hilton for only $499.00 per couple inclusive of taxes and gratuity. The pricing includes hotel room for over night stay with late checkout at 1pm. Cocktail hour to with amazing food, multi-course 5 star dinner, top shelf open bar, (there will be at least be 4 bars in the ballroom ready to serve all night), free photos in the photo booth and "the best entertainment in NY" says Echo. For tickets and information please contact Huntington Hilton directly - mention "ECHO" for a free gift upon check up.
For more information on reserving a photo booth rental, please contact Dennis Sea at 631-320-8580 or visit Incredibooths on the web at http://www.incredibooths.com
###