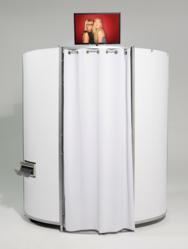 Hands down one of the best vendors from my wedding!
Commack, NY (PRWEB) December 05, 2011
On October 7, 2011 Incredibooths' long island photo booth division had the privilege of being part of the wedding reception for Elizabeth & Joseph Conti. The beautiful reception was held at Floral Terrace on Long Island, NY where more than 200 of their family and friends gathered to witness the nuptials first hand. Also witnessing the celebration was the crew of TLC's "Say Yes To The Dress". Elizabeth was chosen to be part of the show earlier in the year and the couples personality and love for each other really shines in the episode!
The episode will air on December 16, 2011 at 9:30pm EST on the TLC network. Make sure to set your DVR's because you will most certainly catch a glimpse of an amazing long island photo booth rental.
What did the bride and groom think about Incredibooths after the wedding?
"Hands down one of the best vendors from my wedding!!!!!!! So super professional funny and easy to work with-- and the best part is the photo strip guest book sitting on my coffee table!! Thanks to Dennis and his team for a job well done!" -says Lizzie Conti herself.
And Incredibooths is no stranger to the limelight. Often called upon to take part in Long Island's most exclusive functions, Incredibooths has made numerous TV appearances to date. If you are a movie or television producer filming in the NY area and need a photo booth to make an appearance for a scene contact Incredibooths.
Incredibooths - A Member Of Photo Booth Long Island.
###