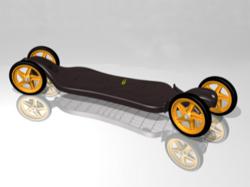 Riders that have bought our board, from 8 to 70 years old, know that the Onda is pure fun and exhilarating to ride."
Canonsburg, PA (Vocus/PRWEB) March 23, 2011
The Onda Motion team is thrilled at the opportunity to launch one of their longboard models – the Onda Lite – next to the major skateboard brands at retail. Their Onda Lite model is competitively priced on the Dick's Sporting Goods website and gives the action sports consumer an affordable option when shopping for a longboard skateboard.
The Onda longboard skateboard features lightweight and functional trucks housed with their patented parallel torsion shocks system. This allows both seasoned skateboarders and novices alike to adjust the shocks to optimize their ride to their experience level.
Sergio Landau, inventor of the Onda longboard skateboard and founder of the Onda Motion Company, dreamed of this idea originally as a fun means of transportation in his Southern California hometown. In Sergio's words: "As soon as we put our product on the market we noticed how kids and parents were seeking out the Onda because of its smoother and safer riding experience compared to traditional skateboards. Riders that have bought our board, from 8 to 70 years old, know that the Onda is pure fun and exhilarating to ride." Retailers love the Onda concept because it appeals to a broader consumer base than the specific target of more traditional skateboards.
Onda's wheels are larger than other longboards', which allows for a smoother and safer riding experience that simulates gliding. The tough polymer-fiber deck gives the board a sleek look that withstands rain, wet surfaces, high temperatures, and accommodates all riding skill levels. Besides the Onda Lite sold at Dick's, Onda Motion offers other high-end models exclusively available on their website.
"It is difficult as an individual inventor to make it as far as Mr. Landau has with his product. Most of the articles you read give inventors little hope and most people end up doing nothing," explains Neil Montgomery, VP of Sales & Marketing with Ad-Gen, a company that specializes in sales and marketing for individual inventors. "I admire Mr. Landau's perseverance and know that the Onda story is just getting started."
About Ad-Gen
Ad-Gen, the marketing arm of veteran invention coaching firm InventSAI, is part of the Montgomery IP Associates Group. They're a full-service, innovative agency that represents exciting new products from small businesses, entrepreneurs, and individual inventors.
Ad-Gen has all of the tools that its clients need to stay ahead and grow in this fast-paced world, including online marketing, advertising, branding, prototyping, public relations, and more. Under the leadership of Neil Montgomery, who is a successful inventor and entrepreneur, Ad-Gen has extensive industry relationships - developed over many years - that allows it to present newly patented or patent pending products to industry insiders.
# # #