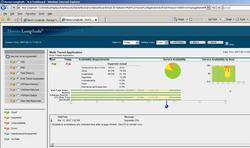 While [cloud computing] holds great promise, it also leaves many IT organizations scrambling to ensure – and document – that end users continue to receive the expected levels of service from critical applications once they have 'moved into the cloud.'
Braintree, MA (PRWEB) July 29, 2010
Heroix, a leading provider of application performance and network monitoring software, today announced Longitude Cloud Edition for monitoring performance and availability in public and private cloud environments. Longitude Cloud Edition provides the visibility IT organizations need to monitor and assess the performance of anything from a single physical or virtual entity, to a multi-tiered application or business service that spans physical, virtual and cloud environments.
"Organizations are adopting virtualization and cloud computing for a variety of reasons, including more cost-effective hardware utilization, reduced power consumption, simpler disaster recovery, and faster, more flexible provisioning," said Heroix VP of Product Development Dick Levin. "While this trend holds great promise, it also leaves many IT organizations scrambling to ensure – and document – that end users continue to receive the expected levels of service from critical applications once they have 'moved into the cloud.'"
Longitude Cloud Edition provides a single pane of glass view into cloud environments by integrating three key monitoring perspectives: End user experience, Key performance & infrastructure metrics, and Service levels (SLAs). First, Longitude Cloud Edition emulates the experience of an end user by recording web transactions of interest, and then replaying them synthetically to assess the availability and response of the application, as well as the content of the site. If the end user's experience indicates a problem, the next step is to drill into the virtual environment and physical infrastructure to pinpoint the root cause. Longitude provides out-of-the-box monitoring for Windows, Red Hat, SUSE, Solaris, HP-UX, AIX, VMware and Network Devices. Longitude proactively monitors key performance metrics to diagnose issues and reveal underlying causes of service degradations.
Longitude also provides pre-configured, on-demand reports and graphs of key performance metrics to help IT staff understand developing trends and ensure maximum availability. In addition, Longitude checks the availability and responsiveness of the infrastructure components that support critical applications, such as DNS resolution, file existence and content, HTTP connections and content, ping, process existence, SQL queries, and more.
Longitude's Service Level Agreements (SLAs) integrate the end user experience and performance & infrastructure metrics, to provide a holistic view of how critical applications are functioning across physical, virtual, and cloud environments. A Longitude SLA groups together all the disparate components that work to support multi-tiered applications that underlie critical business processes, and monitors for degradations in performance or availability of the service as a whole.
For example, suppose a mission critical application depends on a web server in the cloud, a virtualized application server, a back end database housed on a non-virtualized server, and network connectivity. A Longitude service level agreement that represents the convergence of all these underlying operational components, plus the response experienced by the end user, keeps IT personnel apprised of the overall service level being provided by this application.
Pricing and Availability
Longitude Cloud Edition is available now. Annual subscriptions start at $299 and Perpetual licenses start at $999 for 10 managed devices. A 2-week Longitude Cloud Edition free trial is available to download from Heroix.
More Resources
Watch Longitude Quick Tour (5-minute video)
About Heroix
Heroix (http://www.heroix.com) delivers award-winning software products that help organizations optimize the availability and performance of applications, databases, systems, and IT infrastructure running across multiple platforms. Today, with a presence in over 40 countries, Heroix has delivered performance management solutions to over 1,000 organizations worldwide, including Fallon Clinic, Kaiser Permanente, Honeywell, Tembec, Motorola, Inc., and Young Broadcasting.
Heroix and Longitude are registered trademarks of Heroix. All other company and product names mentioned are used only for identification purposes and may be trademarks or registered trademarks of their respective companies.
# # #