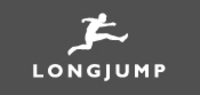 Cool Vendors in Cloud Computing and Application Infrastructure, 2009
Sunnyvale, CA (PRWEB) April 15, 2009
LongJump, a leading provider of software that powers Platform-as-a-Service (PaaS), today announced that leading analyst firm Gartner has named it as a "Cool Vendor" in Cloud Computing System and Application Infrastructure in their newly released report on cloud computing. LongJump's disruptive and highly innovative approach to delivering its Business Applications Platform to companies and service providers has turned the industry on its head. Gartner's 2009 "Cool Vendors in Cloud Computing and Application Infrastructure, 2009" report showcases innovative vendors providing "cloud-based system and application infrastructure services to build and run cloud-based applications."
LongJump offers flexible platform feature and hosting options, providing organizations with unprecedented full control over how and where their applications, data and customer information is created, stored and accessed. LongJump's PaaS can be hosted as a service in the cloud or via third-party infrastructure such as Amazon EC2. Notably LongJump fills a major gap and is the only proven application platform provider that also gives companies and ISVs the option to license an installable version of its platform.
This hybrid approach from LongJump essentially enables corporate IT to create their own private clouds -- giving them the full control and information security they require behind their own firewall. Additionally ISVs and service providers can launch new, branded, multi-tenant Software-as-a-Service (SaaS) offerings without bearing the cost-prohibitive expenses of developing a comprehensive, multi-tenant platform while accelerating how quickly they can get to market and generate new revenues.
"Gartner's recognition as a Cool Vendor is a real honor and we believe it helps to validate our hybrid approach to addressing corporate America's unmet needs for an on-premise PaaS," said Pankaj Malviya, founder and CEO of LongJump. "As the market moves toward adopting and benefiting from this new computing paradigm, we want to be able to provide them with a solution that squarely meets their requirements and addresses their concerns around security, compliance, privacy and vendor lock-in. We're giving them peace-of-mind by letting them choose and fully control their own private cloud."
LongJump's PaaS is easy to deploy and drastically reduces time to market for custom applications without a significant impact on IT budgets. The company's proven platform offers a multi-tenant development and runtime environment and supports the creation of multi-tenant applications. LongJump provides a visual development environment and, while many PaaS providers' offerings rely on proprietary code and non-industry standard languages, LongJump is committed to an open, industry standards-based approach to build hosted applications in the cloud. This means companies can easily leverage LongJump's existing IT applications, platforms and technologies within whatever environment they choose.
About Gartner's Cool Vendors Selection Process
Gartner's listing does not constitute an exhaustive list of vendors in any given technology area, but rather is designed to highlight interesting, new and innovative vendors, products and services. Gartner disclaims all warranties, expressed or implied, with respect to this research, including any warranties of merchantability or fitness of a particular purpose.
Gartner defines a cool vendor as a company that offers technologies or solutions that are: Innovative, enable users to do things they couldn't do before; Impactful, have, or will have, business impact (not just technology for the sake of technology); Intriguing, have caught Gartner's interest or curiosity in approximately the past six months
About LongJump
Based in Sunnyvale, California, LongJump is a service of Relationals Inc., a privately-held, proven provider of on-demand CRM and SFA business applications to more than 400 enterprise companies. LongJump's Platform-as-a-Service (PaaS) and catalog of highly customizable, business applications help companies reduce the time and cost of developing and delivering data-driven applications. Its business building blocks let developers and corporate IT teams gain significant time-to-value, since they can bypass the need to repeatedly recreate common business processes and functions. LongJump is the first platform-as-a-service provider to bring robust customization, integration, and powerful functionality to businesses of all sizes, enabling them to quickly design, implement and do further customization in an easy, affordable way. For more information, visit http://www.longjump.com or call 800.886.9028.
Press Contact:
Carmen Hughes
Ignite P.R.
W: 650-592-1768
carmen (at) ignitepr (dot) com
###