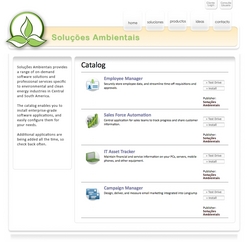 With LongJump, we have been able to integrate our customer information and automate our sales processes, allowing our team to work quickly and more efficiently.
Orlando, FL (PRWEB) October 19, 2009
LongJump, a leading provider of software that powers Platform-as-a-Service (PaaS), today announced a value added reseller (VAR) program for its LongJump Cloud Applications Platform from the Gartner Symposium/ITxpo. LongJump's reseller program appeals to solution providers, Managed Service Providers (MSP), ISVs and VARs who want to take full advantage of opportunities in the Software-as-a-Service market, generate recurring subscription revenues and leverage LongJump as a platform for the delivery of ongoing custom products and new service offerings. LongJump's program lets VARs leverage its powerful, multi-tenant cloud platform to launch their own branded SaaS business, build custom database-driven applications or customize LongJump's existing CRM offering to meet their clients' specific needs.
In the face of adverse market conditions, businesses are holding back on big ticket IT consulting projects, forcing VARs and solution providers to shift strategies and focus on smaller IT projects. Now is the time for resellers, solution providers and MSPs to diversify their customer offerings by offering SaaS solutions. Forrester estimates by 2016 70% of all SaaS business applications will be built on a PaaS platform, and that the PaaS market will grow to more than $15 billion in 8 years. For software vendors considering adopting SaaS in the short-term, Forrester recommends leveraging an existing PaaS offering to mitigate losing more time-to-market.
LongJump's VAR program allows VARs to profitably create solutions for large and small projects and offer those solutions to clients on a subscription basis. Leveraging the company's PaaS provides a way for VARs to directly participate in a SaaS business model by facilitating rapid application development to fulfill clients' long tail of IT projects, while also creating new recurring revenue streams to help their own bottom line.
"The LongJump VAR program is designed to give resellers and solution providers a profitable and fast way to tap into new cloud revenue streams," stated Pankaj Malviya, founder and CEO of LongJump. "We are providing our reseller partners with ready-to-use applications and a flexible PaaS solution to capitalize on for ongoing customer application opportunities."
Program Features Keep Partners in the Driver Seat
LongJump's VAR program provides real financial advantages to resellers by 1) delivering recurring revenue streams, 2) ensuring that they own the entire customer relationship, and 3) providing a platform for the delivery of additional business process consulting and automation. The program includes:

Your Business, Your Branding: VARs can offer their own branded solutions to their customers.
No Program Fees: VARs can quickly get started by offering SaaS products to their customers.
Recurring Revenues: VARs earn recurring revenue based on the pricing they set for their customers. Wholesale service price is NOT a percentage of revenue.
No Hardware or Software to License: LongJump's multi-tenant platform is fully hosted, eliminating the need for expensive infrastructure and operations costs.
VAR Customer Control: The reseller will always be the customer's point of contact. Resellers manage billing and support so that customers are not faced with the hassle of having to deal with different vendors, contracts, etc
Platform and Product Training: LongJump will provide free training for resellers to certify them on the platform and help them understand how to create and customize client solutions.
Technical Sales Support: For sales situations where technical expertise can help close a contract, LongJump will work with the reseller as a member of their team to provide answers to customers.
Sales and Marketing Materials: Partners will be supplied with relevant sales and marketing materials that can be customized, including datasheets, white papers and other documentation about LongJump.
Partners Achieve Success with LongJump
LongJump already counts a number of VARs participating in its program. For example:
Carlsbad, CA-based Ximix does business with a diverse portfolio of companies in healthcare, military and defense, manufacturing, real estate and financial services and leverages LongJump's platform having built hundreds of custom applications for HR, billing, employee management, etc. Rob Brown, a Ximix cloud evangelist and consultant, commented, "Good information management is about reducing complexity and PaaS eliminates having to manage a large ecosystem of SaaS vendors. For many organizations, we avoid the cost creep that is associated with more established vendors like Salesforce by developing on LongJump's PaaS offering, but its real value is its application-agnostic framework which enables delivery of any transactional database-driven application extremely quickly. This means as our clients grow and require changes to their application portfolio, the apps that we prototype and build on LongJump can be extended and reused or translated into new apps on-the-fly -- drastically tipping the economy of scale in our favor."
Atlanta, GA-based Emery Creek Solutions joined the company's VAR program to take advantage of customizing its CRM to maximize customer opportunities. "LongJump's CRM was easy for us to get up and running and customize. It is the most comprehensive CRM product I've used," said Tim Frey, partner at Emery Creek Solutions. "With LongJump, we have been able to integrate our customer information and automate our sales processes, allowing our team to work quickly and more efficiently."
Pricing and Availability
LongJump delivers enormous value to the channel. LongJump applications and PaaS platform have all the capabilities required for enterprise adoption and is comparable with other PaaS platforms that charge customers from $65 to $200 per user/per month. However, LongJump's aggressive channel pricing creates a terrific opportunity to channel resellers to start offering branded SaaS solutions to generate recurring revenues.
The LongJump VAR program is available now starting at $15/user/month and includes LongJump's pre-built and custom applications. Resellers can set the end user pricing. For parties interested in signing up for LongJump's VAR program, visit: http://www.longjump.com/reseller.
About LongJump
Based in Sunnyvale, California, LongJump is a service of Relationals Inc., a privately-held, proven provider of on-demand CRM and SFA business applications to more than 400 enterprise companies. LongJump's Platform-as-a-Service (PaaS) and catalog of highly customizable, business applications help companies reduce the time and cost of developing and delivering data-driven applications. Its business building blocks let developers and corporate IT teams gain significant time-to-value, since they can bypass the need to repeatedly recreate common business processes and functions. LongJump is the first platform-as-a-service provider to bring robust customization, integration, and powerful functionality to businesses of all sizes, enabling them to quickly design, implement and do further customization in an easy, affordable way.
Press Contact
Carmen Hughes
Ignite P.R.
Tel: 650.227.3280 ext. 1
###