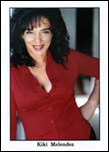 Los Angeles, CA (PRWEB) June 19, 2006
New Yorkers' are in for a treat as delicious as the namesake itself as LA's finest, Hot Tamales Live, the all female comedy variety show, sweeps in to raise spirits and funds for a great cause, Schneider's Children's Hospital. Hosted by the show's creator and director, Kiki Melendez, the all funny show is co-produced by Eva Longoria of Desperate Housewives' fame and Maria Bravo and is sponsored by Lifetime Television for Women.
"What makes our special appearance at New York City's famous Laugh Factory so sweet is that our critics thought we'd never make it. They said that women just aren't that funny! Can you believe that? Well, all we have to say is: She who laughs last laughs best! Every woman out there with a dream should hold on tight and keep persevering. Good things do happen when you believe, I'm so happy to bring this wonderful show to my old stomping ground, Manhattan," states Kiki Melendez, the Hot Tamales Live Birth Mother.
The show's line up each night is as unpredictable as a woman herself. This east coast event blends a bi-coastal comedic troupe for uproarious laughs. And yes, men are welcomed with some fabulous rogues thrown in for spice. The Thursday night performance is being filmed by MTV and Lifetime. Scheduled to appear over the weekend of June 22 through Sunday, June 25th are:
All Star Comics From LA: Amy Anderson, Kate Rigg, Kira Soltanovich, Randi Kaplan, Sandra Vals, Shayma Tash, Betsy Salkind and Yvette Wilson.
All Star Comics From NYC: Bernadette Pauley, Cory Kahaney, Jessica Kirson, Judy Gold, Maija Di Giorgio, Mimi Gonzalez, Sara Contreras, Vanessa Hollingshead. Julie Goldman, Ribin Montague, Laurie Kilmartin.
With Mucho Machos: Dean Obeidallah, Joey Vega, J.J. Ramirez & Ruperto Vanderpool
The Hot Tamales Live will perform on Thursday, June 22nd @ 8PM, Friday, June 23rd @ 8PM and 10PM, Saturday June 24th @ 8PM and 10PM and Sunday, June 25th @ 8PM. Tickets are available for $25 per person with a 2 drink minimum and you must be 21 and over to attend. The Laugh Factory @ Times Square is located at 303 West 42nd Street (entrance on 8th Avenue), New York, NY 10036/ Get your tickets now call: (212) 586-7829 http://www.laughfactory.com or visit http://www.kikikiss.com for more show details.
Kiki Melendez is available for pre-performance radio and TV interviews. For VIP and Press Passes and interviews only please contact Ms. Melendez at 310-709-5617.
# # #