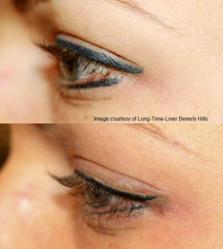 There are several options when seeking to correct unwanted permanent make-up.
Beverly Hills, CA (PRWEB) April 15, 2013
The modern woman seeks effortless beauty, naturally defined features, and more free time. So she looks to permanent cosmetics to enhance her beauty and simplify her life. Luckily, the modern woman has many options when she chooses where to receive her services. Like any industry, there are primitive methods, cutting edge, state of the art techniques, and everything in between. Unfortunately, in the past, there were not so many options, and many were literally 'permanent' changes.
Today, there are many women living with choices they made in the 80's and 90's concerning their permanent beauty. Methods consist of soft-tap, where a technician manually imbeds drops of color into the skin through a tapping method of a very sharp knife, and more. There is tattoo make-up, where a tattoo artist uses an actual tattoo gun to draw shapes into the delicate flesh of the face. Then, permanent cosmetic machines, developed to be gentler and more precise, have emerged and run the gamut of cheap and rudimentary contraptions to highly developed and meticulously engineered pieces of machinery. Whatever the method, some technicians, pigments, or devices can leave permanent damage to the skin, and the overall look of the clients' face.
These past mistakes have created a rise in demand for corrective services. Over time, a woman's face will change, due to gravity, the aging process and exposure to the sun and environment. Permanent make-up also changes. The colors fade, migrate beneath the skin and blur. Strong pigments hang on, while weaker pigments exfoliate and metabolize from the skin.
Master Linergist® and Head North American Trainer, Michelle Park explained, "The remaining hues can be unnatural, sickly and disfiguring. Eyebrows look blue, or red, eyeliners change to green or ruddy brown. Lip outlines turn purple or grey and appear deathly." Many women are dissatisfied with their look and seek correction from laser, dermatologists, aestheticians and permanent make-up artists.
There are several options when seeking to correct unwanted permanent make-up. Laser can be very useful and deliver results; however it can only be used on the eyebrows. Most laser technicians will not use a laser around the delicate eyes or the sensitive tissue of the lips. Therefore, the next best option is to get the old tattoo covered with a color matching the surrounding skin. An inexperienced permanent makeup artist, or one that doesn't use the highest quality pigments, may exacerbate the problem by creating a white or 'painted' look to the corrected area. Experienced technicians with the best pigments should successfully cover the old tattoo with several colors that match the subtleties in variation of natural skin pigmentation.
Long-Time-Liner® USA is a branch of the German company Long-Time-Liner® Gmbh, which was originally founded as a medical micro-pigmentation service provider. The pigments were developed to camouflage scarring and hypo-pigmentation disorders in medical patients. Doctors, skin care specialists, and make-up artists were all involved in the development and manufacturing of Long-Time-Liner® Conture® Make-up Pigments. The result of this collaboration is a line of hypo-allergenic, sterile and safe pigments that match an extensive array of skin tones. All products are manufactured in a state-of-the-art medical processing plant. They are sterile and pure of irritants and allergens. Highly trained technicians are able to choose several camouflage pigments to suit any skin color and correct unwanted darkness or lightness with a layering technique.
Along with correction of unsightly permanent make-up, camouflaging techniques can be used to conceal scarring, hypo-pigmentation such as Vitiligo, and even facial malformations such as cleft lips. Colors can be customized to lighten dark spots, and create a crisp outline to uneven contours. They can also darken, or replace pigment on lighter areas that have resulted from burns, surgical procedures, and unnatural looking attempts to correct permanent makeup.
Many of the successful procedures have been on clients, a whopping 45% of the client list totaling up to 500, have suffered through years of unattractive permanent make-up features. When they discover the Long-Time-Liner® methods for corrective pigmentation, they are overjoyed by the difference it makes.
The process of Micropigmentation from Long-Time-Liner® begins with a consultation of desired results with a service plan to maximize results. The technician will then apply one layer of color after another until the area of correction has been thoroughly covered with various tones of pigment. The effect will be almost identical to surrounding skin color. In most cases, the client will need several sessions to completely cover the corrected area and build up enough pigment in the skin without overworking the skin. Healing time between sessions is usually 2 weeks to 1 month, depending on the area. The skin should be protected for the first 2-3 days, afterwards the skins own defenses will heal and lightly exfoliate of the topmost layer. The underlying skin will be the lasting color; it is generally slightly lighter than the first day after the procedure. This underlying color can then be built upon by the next procedure.
Long-Time-Liner® Conture® Make-up is considered to be semi permanent. Therefore, old permanent color may tend to gradually reappear over several years. Clients are recommended to receive touch-up services every year or two to keep their color fresh and the old permanent covered.
Long-Time-Liner® is located in Beverly Hills California, at the heart of the beauty and luxury product center. There have been many beautiful and satisfied customers from all age groups, nationalities and personal style. Semi-Permanent Conture® Make-up can make a significant improvement to anyone's beauty. Contact the salon for more information and to book a consultation!