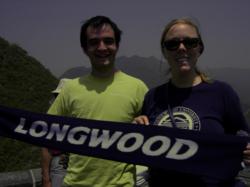 It's really eye opening to experience different ways of living and the work ethic in other countries
Farmville, VA (PRWEB) May 31, 2012
Longwood University MBA student Lauren Gabor and undergraduate business student Will Wornom learned first-hand about multinational business while traveling China as the guests of Evergreen Enterprises, Inc. Their ten-day trip in May 2012 came at the invitation of Frank Qiu and Ting Xu, the CEO and president of Evergreen Enterprises of Richmond, VA after the two were Executives-in-Residence at Longwood University's College of Business and Economics. Firm believers in sharing their success with others, Mr. Qiu and Ms. Xu's invitation provided the two Longwood College of Business and Economics students with the opportunity to experience a successful multinational corporation in action and see for themselves the practices of multinational business that they'd studied in the classroom. Lauren and Will were chosen for this honor based on their essays written in response to Mr. Qiu and Ms. Xu's Executive-in-Residence presentation at Longwood University.
The highlight of the trip was a two-day stop in Ningbo, China where the Evergreen Enterprises factory, showroom, and campus are located. Lauren Gabor found the tour of the flag production factory where they viewed the processes of embroidery and print transfer inspirational. "During the busy season, this group of over 800 employees comes together and seamlessly manufactures the product, moving it from one station to the next. It would be great to be part of a company whose culture, vision, and strategy really motivates employees; I know it's something I've been looking for when applying for jobs after I receive my MBA in July."
In addition to visiting Ningbo, the two students also explored Shanghai, Xi'an, and Beijing.
From this trip the two developed a sense of what it means to operate one successful company in two such diverse countries. Both Lauren and Will returned from China with an increased appreciation for and interest in pursuing global opportunities. Lauren found the trip a great learning experience, "You can absorb so much about the culture and people. It's really eye opening to experience different ways of living and the work ethic in other countries." The trip assured Will, an Information Systems and Security major, that he wants to come back to the region and would love to work in cyber security for a multinational corporation.
To learn more about Longwood University and the College of Business and Economics visit http://www.longwood.edu/business.
About Longwood University and the College of Business and Economics
Founded in 1839, Longwood University is one of the oldest public institutions of higher education in the Commonwealth of Virginia. Today, Longwood is a coeducational, comprehensive public institution offering 100 majors, minors, and concentrations to over 4,800 students with undergraduate programs in business administration, education and human services, nursing, the arts and sciences, plus graduate programs in education, communication sciences and disorders, English, sociology, and an MBA.
Longwood's College of Business and Economics, accredited by AACSB International, prepares effective and successful business leaders by guiding students to develop their full potential. A dedication to leadership values and ethics builds upon Longwood University's mission to develop citizen leaders. The College's required and outstanding internship program ensures that all students practice their business skills and apply their knowledge in the real business world.