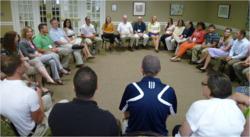 We felt that it was important for students to be able to come together to work face-to-face with both the faculty and the other students
Farmville, VA (PRWEB) July 16, 2012
Students participated in a variety of panel discussions, case studies and other activities designed to help them explore this year's topic: "Creativity and Innovation." Pre-reading for the residency was The Medici Effect: What Elephants and Epidemics Can Teach Us About Innovation. The book was the basis for a workshop on creativity and innovation in business led by Gayle Turner of Catch Your Limit Consulting.
The "MBA Boot Camp" was further enhanced by a team-building exercise at the Longwood ropes course led by Dr. Charles White, assistant professor of management in the College of Business and Economics at Longwood. White said the ropes course helps students develop leadership, group cohesiveness, problem-solving and communication skills in a fun, interactive outdoor environment.
"It provides an opportunity for students to reflect on and apply many of the leadership and team skills they learn in the MBA program," White added.
"MBA Boot Camp" was created when the program transitioned to online classes.
"We felt that it was important for students to be able to come together to work face-to-face with both the faculty and the other students," said Abbey O'Connor, director of the MBA program. "In addition, the on-campus residency provides an opportunity to supplement and enrich the online curriculum with the exploration of cross-disciplinary topics, such as creativity and innovation, leadership values and ethics, and globalization."
Students say they benefit greatly from the residency. Soon-to-be graduate Lauren Gabor states,
"Through my experiences at the MBA residencies, I have gained an understanding of what it truly means to be a part of a team. Working in concert with my peers and the excellent faculty at Longwood, I have been able to increase my professional network and utilize valuable resources available only to Longwood students."
The successful 2012 residency was capped off with a formal celebration recognizing the first graduates of the fully online program.
To learn more about the Longwood online MBA program, visit http://www.longwood.edu/mba.
About the Longwood MBA, the College of Business and Economics, and Longwood University
Longwood University's MBA program is one of five programs in the Commonwealth to offer a completely online MBA. An integral part of the online program is the annual on-campus residency, a non-course requirement designed to supplement and enrich the online curriculum. The MBA program consists of 36 credit hours. The flexible program allows students to study full time or part time.
Longwood's College of Business and Economics, accredited by AACSB International, prepares effective and successful business leaders by guiding students to develop to their full potential. A dedication to leadership values and ethics builds upon Longwood University's mission to develop citizen leaders. The college's required and outstanding internship program ensures that all students practice their business skills and apply their knowledge in the real business world.
Founded in 1839, Longwood University is one of the oldest public institutions of higher education in the Commonwealth of Virginia. Today Longwood is a coeducational, comprehensive public institution offering 100 majors, minors and concentrations to more than 4,800 students, with undergraduate programs in business administration, education and human services, nursing, the arts and sciences, plus graduate programs in education, communication sciences and disorders, English, sociology, and business.