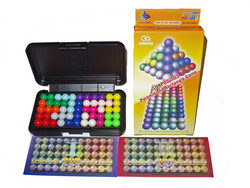 Best Summer Play and Learn Products Program - 2008
Ferndale, WA (PRWEB) August 15, 2008
World-renowned children's products guru Stevanne Auerbach (Dr. Toy - http://www.drtoy.com ) has awarded one of her very few Best Vacation Products Awards (under her new "Best Summer Play and Learn Products Program - 2008") to Mic-O-Mic Americas Inc. for their LONPOS 303 Pyramid and Rectangle Game.
Dr. Toy's comments on this game are:
Playing with LONPOS brainteaser games enhances math skills, hand-eye coordination, patience, concentration, cognitive skills and self-confidence. At the same time, they are fun and provocative. They are great fun when two or more players vie with each other to see who can finish a problem first, perhaps to win a prize. There are 363,566 permutations in this pocket/purse sized game, making it an ideal travel game LONPOS 303 has 256 preset rectangle problems plus 47 preset pyramid problems to solve, ranging from very easy to extremely difficult. To play 2D games, take out the 12 colorful game pieces (known as pentominoes) from the box and put them on the tray. Then, from the booklet, locate a problem that you would like to try to solve and place the pieces on the game board in accordance with the illustration. Once you have done that, the challenge is to fit the remaining pieces into the spaces remaining. To play 3D games, take the pentominoes out of the box, close the box and turn it over so that the game board is facing upward. Locate the problems in the booklet, set up the pyramid in accordance with the illustration and then fit the remaining pieces into place to complete the pyramid. The pieces comply with European safety standards En71 and bear the CE mark, as well as complying with ASTM standards. An ideal teaching aid to help develop the skills and qualities mentioned in the first sentence of this evaluation.
Anybody can try out this game online before buying by going to http://www.micamericas.com/scripts/openExtra.asp?extra=14
Other awards to Mic-O-Mic Americas Inc. for this game include:
Oppenheim Toy Portfolio Best Toy Gold Seal 2007
The National Parenting Center Seal of Approval 2007
Parents' Choice Foundation Gold Award 2006
TOY TIPS TRUSTED Mark of Excellence 2007
The Toy Man Seal of Approval, Mark of Excellence and Editor's Choice Awards 2007
Dr. Toy 100 Best Children's Products and 10 Best Games Awards 2006, and Best Products Winner 2007
Major Fun Award 2007 (Thinking Games) (Bernie deKoven, funsmith)
iParenting Media "HOT" Award Winner 2007
Mr. Dad Seal of Approval 2006
National Lekotek Center AblePlay™ Ratings for play products for children with special needs 2007 (Two stars for Physical Disabilities and three stars each for Sensory, Communicative and Cognitive Disabilities)
Creative Child Magazine's Top Toy of the Year Award 2006 (Children's Brainteaser Games)
Real Gaming Seal of Approval and Award of Excellence 2007
Complete reviews by these experts may be seen by visiting their websites or by visiting http://www.micamericas.com/scripts/openExtra.asp?extra=19
Recommended Retail Price: US$19.99-24.99
The earlier, and still available in very limited quantities, LONPOS 101 Pyramid and Rectangle Game (with 101 preset challenges) also won many awards for Mic-O-Mic Americas.
These games have a recommended age grouping of 8 to adults, but children as young as 4 do well on the more simple problems under adult supervision.
Many of our resellers have sold well into the hundreds, some more than 1,000 and a couple more than 2,000 of our games in less than three years. One small reseller (with no website!) has sold 3,000 in the past two years.
LONPOS games are available worldwide where, according to the inventor, over 2,000,000 have been sold. Mic-O-Mic Americas' versions are the only ones to have won so many awards, attributable to the excellent value of the games and to the fact that Mic-O-Mic Americas designed eye-catching packaging appealing to both adults and children.
About Mic-O-Mic Americas Inc.
The company was formed in 2004 to introduce to North America and distribute the patented Mic-O-Mic range of construction toys from Germany. Most of these toys have won awards from toy and game experts. More information is available on http://www.micamericas.com/scripts/openExtra.asp?extra=13
In mid-2005 they introduced their version of LONPOS 101 Pyramid and Rectangle Game. Because of the success of LONPOS 101 and requests for more preset games from their resellers and from consumers, the company introduced the LONPOS 303 Pyramid and Rectangle Game in mid-October 2006. This has the original 101 preset challenges and a further 202 in a separate booklet.
For additional information on the news that is the subject of this release or enquiries from potential resellers, please contact:
Tony Cross or Debbie Addy
Mic-O-Mic Americas Inc.
P.O. Box 22035
Savannah, GA 31403 USA
Tel: (912) 238-0016 or TOLL FREE: 1-877-642-6642 Fax: (912) 232-2284
Email: micamericas @ aol.com
Website: http://www.micamericas.com
# # #