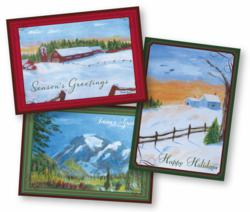 LookLoveSend plans to support the year-round efforts of community champions like Special Olympics Massachusetts
Billerica, MA (PRWEB) November 08, 2011
LookLoveSend.com is proud to announce a community partnership with Special Olympics Massachusetts (SOMA). Beginning this holiday season, LookLoveSend.com's high quality collection of printed, personalized holiday photo cards are available for purchase online at http://www.LookLoveSend.com/SOMA to generate fundraising dollars for Special Olympics Massachusetts. This collection will also feature a new line of holiday and general greeting cards created from the original artwork of one of SOMA's athletes, Domenic Ricci.
Domenic is a talented painter whose cards feature scenic New England-inspired watercolor paintings. There are nine card designs featuring his work, along with LookLoveSend.com's extensive collection of personalized photo holiday cards and holiday party invitations. The proceeds from sales of Domenic's cards or from sales of any LookLoveSend.com holiday cards purchased through http://www.looklovesend.com/SOMA will go directly to Special Olympics MA.
Regular LookLoveSend.com shoppers may also purchase Domenic's cards on http://www.LookLoveSend.com and those proceeds will go to Special Olympics MA. For any other holiday-related purchases, including Hanukkah cards, New Year's cards, or other personalized holiday photo cards, shoppers can make a direct dollar donation to SOMA at checkout. Domenic's original paintings are not for sale since he chooses to give away his artwork, so purchasing one of his cards is one way anyone can enjoy his work.
"I love painting," says the 13-year old student from Brockton, MA.
Domenic started painting and drawing at age 9 with his grandfather, Vincent Ricci. Together they paint for one hour on the third Sunday of every month, developing each other's artistic abilities. Domenic's grandmother keeps a careful photo record of each painting in a family photo album as a way to catalog his work, and his paintings have become so well liked that he now has a waiting list for requests. Domenic plays flag football, basketball and volleyball for the Brockton Bulldogs and is an avid fan of professional wrestling. Domenic has Asperger's Syndrome, a disorder on the Autism spectrum.
For more than 40 years, Special Olympics Massachusetts has relied on community partnerships to help foster acceptance and unity within the community's population of people with special disabilities. SOMA gives individuals with intellectual disabilities opportunities to learn and develop a variety of skills, broaden their interests, and more easily become accepted members in all aspects of the community.
"Our partnership with LookLoveSend.com helps us share the abilities of athletes like Domenic beyond the fields of competition," explains Klete Squires, Director of Development for SOMA.
LookLoveSend.com recognizes the importance of Special Olympics participants as citizens in our communities and is proud to showcase the artwork and accomplishments of inspiring artists like Domenic.
"LookLoveSend plans to support the year-round efforts of community champions like Special Olympics Massachusetts," says John Barry, CEO/President of LookLoveSend.com. "Our web technology and quality stationery products create mutual opportunities for our business and their organization to broaden the reach to customers and donating supporters alike."
About LookLoveSend.com
LookLoveSend, LLC is a Boston-area based Internet stationery company specializing in high quality printed invitations and announcements for special occasions, including holiday, wedding, baby, party and religious occasions. Authentic artists create original designs exclusively for LookLoveSend.com. A fully integrated Website allows customers to personalize designs with photos, make color and paper selections, and order samples. In-house, experienced customer service and print production teams oversee orders from start to finish. All orders are printed on premium paper with a 100% satisfaction guarantee. Customer Service is available Monday through Friday from 8 a.m. – 6 p.m. toll-free at (866) 399-6265.
About Special Olympics Massachusetts
The mission of Special Olympics Massachusetts (SOMA) is to provide year-round sports training and athletic competition in a variety of well-coached Olympic-type sports for individuals with intellectual disabilities. SOMA also provides athletes with continuing opportunities to develop physical fitness, prepare for entry into school and community programs, express courage, experience joy, and participate in the sharing of gifts, skills and friendship with their families, other Special Olympics Athletes, and the community. Special Olympics serves more than 200 countries and nearly 3 million recognized Special Olympics Athletes worldwide.
###