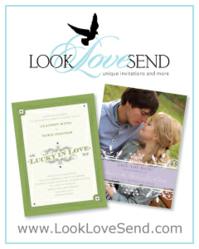 Billerica, MA (PRWEB) March 05, 2012
A recent blog redesign by wedding invitations and personalized stationery experts LookLoveSend.com will help customers navigate through the company's treasure trove of posts containing ideas, inspirations and tips for special occasions. The blog, Invite & Delight, got its makeover following recent changes to the company's website optimizing the customer shopping experience. Invite & Delight contains more than 250 posts with ideas, tips, information, stories and more to help customers plan and execute events relating to life's special occasions, including weddings, babies, parties, holidays and more.
LookLoveSend.com has developed proprietary website technology to give the online customer easy-to-use tools to instantly customize and personalize design selections. Hundreds of original, unique stationery products are available on the site. Talented artists from around the country offer customers a wide selection of styles and color palettes.
When a LookLoveSend customer selects an online design, a high resolution image shows exactly where to click to personalize the design with a photo and customized text. For designs with a photo element, a simple one-click step quickly uploads the photo from the customer's computer. Another click opens the edit box, making the process easy and fast. Customers can zoom in or out on the photo, as well as apply different color treatments, such as sepia tones or black-and-white. Text customization includes the option to change the font style and size. Further customization is available through a "special instructions" box which the company's knowledgeable customer service team reviews for every order. The LookLoveSend customer service team is happy to assist customers with special requests for wording and photo optimization support.
LookLoveSend's product lines include coordinated designs for complete wedding invitation suites, birth announcements, party invitations, and many other special occasion categories. Their easily navigable website, with highly unique designs and simple online personalization, is bolstered by the company's state-of-the-art print technology and high-touch customer service.
"Our goal is to give consumers a superior shopping experience and put the resulting high quality product into their hands fast," says John Barry, President and CEO.
LookLoveSend backs the smooth ordering experience with its in-house professional print and customer service team, staffing more than 200 employees during peak demand times. All products print on an HP Indigo 7500, one of eight digital printing presses housed in a 125,000 square foot facility.
About LookLoveSend.com
LookLoveSend, LLC is a Boston-area based Internet stationery company specializing in high quality, custom invitations, unique announcements and more. LookLoveSend's stationery collections are designed by authentic artists who create exciting and inspiring designs for LookLoveSend. The Company has developed its own fully-integrated Web interface which allows customer personalization via an easy-to-use ordering process. All stationery products are printed on premium paper with a 100% satisfaction guarantee. Customer Service is available Monday through Friday from 8 a.m. – 6 p.m. toll-free at (866) 399-6265.