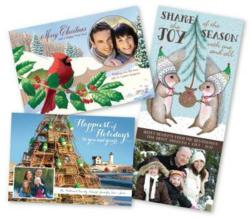 Billerica, MA (PRWEB) November 29, 2012
LookLoveSend.com continues to build a commitment to giving through a community partnership with the Jimmy Fund and Dana-Farber Cancer Institute. LookLoveSend.com began supporting the Jimmy Fund's annual holiday program in 2011 with the introduction of a new collection of original, personalized holiday cards. This season the Jimmy Fund has added more new designs to give customers the same high quality, easy online personalization and flawless printing on premium papers.
A portion of the proceeds from Dana-Farber holiday photo cards ordered online at http://www.looklovesend.com/jimmyfundholiday will go directly to pediatric and adult cancer care and research at Dana-Farber Cancer Institute. A portion of the proceeds from other LookLoveSend holiday stationery, which includes collections of Hanukkah cards, New Year's cards, and holiday party invitations, will also go directly to Dana-Farber Cancer Institute. Jimmy Fund supporters will also have the option to make an additional contribution at checkout.
Regular LookLoveSend.com shoppers who purchase Dana-Farber holiday cards at http://www.LookLoveSend.com also send a portion of those proceeds to DFCI. They may also choose to make a gift to The Jimmy Fund at checkout.
The Dana-Farber holiday photo cards feature new artwork inspired by iconic Boston landmarks, hometown sports favorites, and images created by Dana-Farber patients. Together with LookLoveSend's own original collection of holiday cards, Jimmy Fund supporters and regular LookLoveSend.com shoppers will have the opportunity to contribute to an important lifesaving cause through their purchases.
"We are honored to bring our customers and Jimmy Fund supporters the chance to share in our commitment to giving to this important cause again this year," says John Barry, CEO/President at LookLoveSend.com. "We know holiday card shoppers will love our easy online ordering and giving, as well as our high quality printing and papers."
About LookLoveSend.com
LookLoveSend, LLC is a Boston-area based Internet stationery company specializing in high quality printed invitations and announcements for special occasions, including wedding, baby, holiday, party and more. Authentic artists create original designs exclusively for LookLoveSend. A fully integrated Web interface allows customers to personalize designs with photos, select paper and design options, and order samples. Experienced customer service and print production teams oversee all orders in-house from start to finish with a 100% customer satisfaction guarantee. Customer Service is available Monday through Friday from 8 a.m. – 6 p.m. toll-free at (866) 399-6265.
About The Jimmy Fund
The Jimmy Fund solely supports Boston's Dana-Farber Cancer Institute, raising funds for adult and pediatric cancer care and research to improve the chances of survival for cancer patients around the world. It is an official charity of the Boston Red Sox, as well as the official charity of the Massachusetts Chiefs of Police Association, the Pan-Massachusetts Challenge, and the Variety Children's Charity of New England. Since 1948, the generosity of millions of people has helped the Jimmy Fund save countless lives and reduce the burden of cancer for patients and families worldwide. Become a fan on Facebook at http://www.facebook.com/thejimmyfund or follow us on Twitter, @TheJimmyFund.
About Dana-Farber Cancer Institute
Dana-Farber Cancer Institute is a principal teaching affiliate of the Harvard Medical School and is among the leading cancer research and care centers in the United States. It is a founding member of the Dana-Farber/Harvard Cancer Center (DF/HCC), designated a comprehensive cancer center by the National Cancer Institute. It provides adult cancer care with Brigham and Women's Hospital as Dana-Farber/Brigham and Women's Cancer Center and it provides pediatric care with Children's Hospital Boston as Dana-Farber/Children's Hospital Cancer Center. Dana-Farber is the top ranked cancer center in New England, according to U.S. News & World Report, and one of the largest recipients among independent hospitals of National Cancer Institute and National Institutes of Health grant funding.