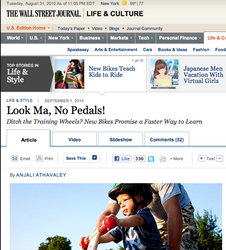 The school of thought on how to ride a bike is changing
Rapid City, SD (Vocus) September 2, 2010
A feature story in yesterday's The Wall Street Journal affirms the growing popularity of so-called balance bikes among parents of American toddlers.
"The school of thought on how to ride a bike is changing," the Journal proclaims. Training wheels are out. Biking without pedals is the preferred method.
Leading the evolution in the United States is Strider Sports International, Inc., originator of the durable, 7-pound Strider PREBike, a popular custom-engineered learning bike that is designed specifically to aid young children in acquiring balance, coordination and the self-confidence that biking without training wheels inspires.
Strider PREBikes are pedal-less, feature steel frames and footrests that are toddler-sized, and have adjustable seat and handlebar heights that can accommodate the smallest of children and grow along with them.
The Wall Street Journal notes that the League of American Bicyclists, a non-profit organization that promotes cycling, now recommends biking without pedals as the best method of training individuals new to cycling.
"Tens of thousands of American toddlers have already proven beyond a doubt that Strider PREBikes are absolutely the best and safest method of teaching children to bike at an early age and simultaneously love doing it," says Ryan McFarland, founder and chief enthusiast at Strider Sports. "The Journal article is an exclamation point on what our delighted parents have been telling us all along."
Strider PREBikes have become a quiet, growing rage among parents of children 18 months to five years of age and older. Moreover, Strider's balance bikes, which are sometimes referred to as running bikes, have given pride and independence to many thousands of special-needs children.
This year McFarland forecasts his company will triple its unit sales, which he believes are already the fastest selling such bikes in the United States. (Competitive results are not public.)
While there are multiple brands and models of running bikes now on the market, Strider PREBikes are unmatched in value and customer satisfaction, McFarland says. Children who launch on a Strider PREBike routinely advance to a regular, unaided two-wheeler at least 18-months to two years earlier than kids using training wheels.
Moreover, when Strider PREBikes kids do transition to regular pedal bikes, they avoid the 'wobbling cycle' that the Journal article ascribes to most new child bikers. Unlike reluctant kids who must be weaned from their training wheels, Strider PREBike graduates have a self-confident and robust set of riding skills at their disposal from their very first pedal stroke.
"A Strider kid has two years worth of 'seat-of-the-pants' experience as to what the bike is doing and how to adjust balance to compensate," McFarland explains. "Our kids have a riding history to draw upon, whereas training wheel kids simply panic."
The Wall Street Journal article cites Mae Creadick, a happy Asheville, NC mother who bought a Strider PREBike for her 2-year-old son who took to it with ease. A year later, Ms. Creadick reports, her son is now riding at the local BMX track. "It makes his father really proud because he's a BMX racer," she says.
Strider PREBikes are available directly from the company at http://www.stridersports.com, as well as from a growing network of quality retailers, bike shops and distributors. Strider PREBikes are priced at less than half the cost of some of the models cited by the Journal.
Credentialed members of the news media are invited to 'test-drive' Strider PREBikes by contacting the Strider Sports media relations department. Strider can also connect journalists with satisfied Strider PREBike owners in their local communities.
For customer inquiries, visit http://www.stridersports.com. For media inquiries, contact Dean Rotbart, Media Relations Director, by email or phone.
###