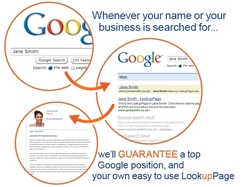 (PRWEB) July 21, 2009
LookupPage, a personal branding tool that specializes in helping users promote themselves online, announces that its services are now available for businesses. Both personal and business profiles can now benefit from guaranteed online visibility on Google's first results page, helping LookupPage users manage their online image. With the abundance of data that makes up cyberspace it is crucial that the information associated with a brand will not only be precise, but also readily available for anyone that is searching for it.
Creating a business profile on the newly redesigned LookupPage is free of charge and takes less than five minutes to set up. Business profiles can include a company logo, contact details, web links and any other information a business may want to promote online.
Premium business profiles receive a unique domain name, benefit from increased exposure to major search engines and are guaranteed online visibility on the 1st page of Google. Statistics show that for every visit to a free LookupPage, Premium members average 30 visits.
An example of a Premium business LookupPage is http://www.OxfordCarService.com.
LookupPage is encouraging everyone to Google and Yahoo Search 'Oxford Car Services' so they could see how well a profile on LookupPage can rank.
The benefits of a Premium business profile also include a tracking system that enables the user to know who has been looking at their profile and where the search came from. This information is crucial in deciding what audience to target in future campaigns.
To create a business profile using LookupPage:
1. Go to the LookupPage homepage.
2. Enter an email address and a password in the right-end signup box.
3. Select "I'd like a business page".
4. Enter your business and personal name.
5. Add more information such as an overview of the business and contact info.
###