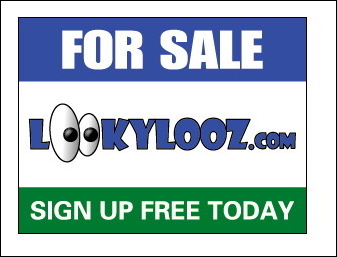 Long Beach, CA (PRWEB) October 19, 2006
LookyLooz.com, a leader in online real-estate marketing, today announces version their new 2.0 version of their innovative LookyListing service.
What is a LookyListing?
Our LookyLooz 2.0 product allows realtors, brokers or for sale by owners to quickly list their properties out on the Internet at a unique web location.
For example, if a realtor has a home for sale at 16231 Kipling Circle, the realtor can use our LookyLooz product to quickly and easily create a unique website featuring only their property at a web address that matches their street address, such as http://www.16231KiplingCircle.com.
The goal of LookyLooz 2.0 is twofold:
1. Provide non-technical realtors with an easy-to-use way for realtors to take advantage of powerful Internet marketing tools
2. Provide web-savvy realtors with a deep feature set to customize their web marketing efforts
Easy to use:
Realtors do not need to be web experts to have powerful real-estate web marketing tools available to them. LookyLooz 2.0 features a quick and easy 3-step listing process. Our easy to use Listing Wizard will walk you through the setup of your new LookyListing! You can have your LookyLooz website live on the Internet for buyers to see within minutes!
No special web or computer skills are required. We are PC and Mac friendly. If you can browse the Internet or send an e-mail, then you can use LookyLooz.
Feature-rich:
LookyLooz 2.0 also provides feature depth for the web-savvy Realtor with features such as customizable web pages, customizable property flyers, web statistics and automated search engine submissions. Our websites are available in a number of alternate languages including Spanish. This expands your potential client base without you needing to do any work.
Turn more leads into listings:
Clients want you to provide them with a superior sales approach and showcase their home. Show off your skills and provide them what they want. Let word of mouth and curiosity guide clients to you by using innovative, easy to use, and effective marketing.
Paper advertising can only provide a fraction of what clients want and can cost multiples more than web advertising. However, combined with your typical marketing techniques, LookyLooz.com provides you with the additional tools to make your property listing advertisements stand out against the rest.
###