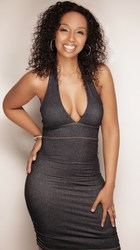 JJ is my inspiration to be a more beautiful, healthier me! JJ is not just talking about it, but living it...she is AWESOME!
Washington, DC (PRWEB) March 7, 2011
Women and men who struggle to lose weight and keep it off, while constantly feeling old, achy and tired should definitely sign up for this groundbreaking free teleseminar on March 17, 2011 at jjsmithbeauty.com.
"Over the years, I've dealt with numerous ailments and illnesses and decided that I was going to take control of my health and figure out a way to heal my body! Along my journey to wellness, I noticed that my face and body began to look and feel younger than they did when I was in my 20s. I realized that the same techniques I was using to restore my health were actually turning back the hands of time," says JJ Smith.
JJ Smith, who recently appeared on The Ultimate Makeover, which aired on the TLC Network, has a proven system of healthy living that has not only healed her body, but also helps her to look younger as she ages. During this free teleseminar, JJ is going to share her proven tips, strategies and remedies for the first time ever. In this teleseminar, you'll learn:

A method that cleanses the body & causes the pounds to melt away.
Discover why diets don't work and the only surefire way to lose weight and keep it off
How to get rid of excess belly weight once and for all!
Quick ways to turn dull, dry, aging skin to clear, glowing, youthful skin.
New methods for fighting fatigue and increasing energy.
How to dress thinner and sexier… but not too young.
Ways to diminish trouble spots (such as getting rid of cellulite and wrinkles) without cosmetic surgery.
What Top 5 Foods you could be eating every day to boost your immunity, fight cancer, reduce disease and live longer!
Check out Who Else Wants to Look and Feel 10 Years Younger: Discover Secrets to Lose Weight, Look Younger, Get Sexy and Have More Energy! Here's the link to sign up for this free teleseminar at http://www.jjsmithbeauty.com/webinar.html.
About JJ Smith:
JJ Smith recently appeared on The Ultimate Makeover, which aired on the TLC Network. On this show, she provided beauty tips to women to give them confidence in their appearance. JJ's advice has been featured by Glamour, Essence, Ladies Home Journal, NBC, FOX, the Jamie Foxx Show, the Michael Baisden Show, the Montel Williams Show and many others! JJ is also the author of Why I Love Men: The Joys of Dating.
# # #