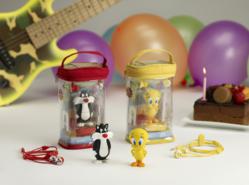 (PRWEB) January 17, 2013
NewsWatch recently highlighted from the floor of the 2013 Consumer Electronics show a fun new product called the "Looney Tunes MP3 Player" from EMTEC. The Looney Tunes MP3 Player is reviewed and highlighted on the Nationwide Television News program, NewsWatch.
The Looney Tunes MP3 Players feature Tweety Bird or Sylvester the Cat, and allow users and their kids to experience music in a fun-filled way. These cute MP3 players feature an integrated speaker and customized earphones and have an 8-gigabyte capacity, which means they can hold around 2,000 songs and give users 5 hours of playback.
The player also features SafeSound, which limits the volume to 80 dBA and protects young ears from damage. Each MP3 player comes with an attractive zippered pouch to carry the player and headphones, or for a child to use as storage for their smaller toys. For more information on the Looney Tunes MP3 Players, head to http://www.emtec-international.com.
About Emtec: The EMTEC brand was launched from, the inventor of the first magnetic tape for audio recording. In the late nineties, after years of innovations in the production of consumer tape products, including audio-cassettes, floppy discs and video-cassettes, BASF Magnetics became EMTEC Magnetics.
Turning the company's focus to mobile storage products, by 2006, EMTEC had produced the number-one selling brand of flash drives in France and the number-three selling brand of flash drives in Europe for five years and counting. Today, EMTEC is distributed in over 50 countries and prides itself on a 75-year history of creating innovative products that embody the human spirit: to preserve, protect and share the most valuable moments of daily life.
NewsWatch is a weekly 30-minute consumer oriented television show that airs on the ION Network Thursday mornings at 5:30am across the nation. NewsWatch regularly features top travel destinations, health tips, technology products, medical breakthroughs and entertainment news on the show. A recent addition to NewsWatch, AppWatch is a weekly segment that provides viewers app reviews and game reviews of the latest and hottest apps and games out on the market for iOS and Android devices. The show airs in 180 markets nationwide as well as all of the top 20 broadcast markets in the country, and is the preferred choice for Satellite Media Tour and Video News Release Distribution. For more information on , head to http://www.newswatchtv.com.
The Consumer Electronics Association (CEA) is the owner and producer of the International CES. CEA is the preeminent trade association promoting growth in the $186 billion U.S. consumer electronics industry. More than 2,000 companies enjoy the benefits of CEA membership, including legislative advocacy, market research, technical training and education, industry promotion, standards development and the fostering of business and strategic relationships. All profits from CES are reinvested into CEA's industry services. Find CEA online at CE.org and Innovation-Movement.com.